Under this Post We have Covered:-
Top 10 CAT Coaching institute in Pune
Best CAT Coaching institute in Pune
Lists of CAT Coaching in Pune With Fees
Connected with the techie hub city of the nation, it is natural for Pune to become one of the largest education hubs of the country.
Even more than that, several IT graduates, as well as undergraduates, take coaching facilities from here in order to get enrolled in top corporate sectors.
Therefore, it is natural that Pune to date is having such a large number of MBA coaching institutes. To make your hunt easy, below we are providing a few tips listed coaching hubs to get yourself enrolled in a better future
Best CAT Coaching Institutes in Pune
iQuanta CAT Coaching
iQuanta is India's No.1 Cat Online Coaching institute that offers training through dual learning pedagogy for various management programs entrance exams like CAT, NMAT, SNAP, OMET and GMAT.
iQuanta, in just 4 years since its inception, has achieved what other players took 15 years to achieve, 20,000+ IIM calls and 2000+ Top IIM converts.
At iQuanta they have a dual pedagogy teaching system where they deliver both conceptual and application learning methods; in one the teacher delivers the concept live along with examples; in the other the application method where students are in the driving seat and apply their own mind before the educator provides the solution.
Then comes their Content relevancy; iQuanta's content is so sure shot that many a question in the exam itself has come across from¹ the iQuanta CAT course.
24*7 cross doubt solving started with their basic ideology by iQuanta's founder Mr Indrajeet Singh, also known as "the wizard of quants" where aspirants get their doubt resolved in a very short time, even at 2 a.m.
iQuanta team responds to aspirant's queries within 5 – 10 minutes. Even in their CAT Public group, you don't have to be an iQuanta student to ask doubts, iQuanta team will also help you with your queries. With 331k members, it is the most active group.
To know more about their iQuanta CAT courses, visit: https://www.iQuanta.in
For other MBA entrance exams, visit: https://www.iQuanta.in/mba
Join India's largest Online 24*7 active community – https://www.facebook.com/groups/iquantacat
Check out their YouTube channel for CAT preparation – https://www.youtube.com/c/CatpreparationiQuanta
Follow their Instagram page for regular CAT news and updates – https://www.instagram.com/iquanta.in/
T.I.M.E Institute- Best CAT Coaching in Pune
About
Established in the year 1962 as Triumphant Institute of Management Education Pvt. Ltd., it is recognized as one of the leading coaching institutes for the preparation of CAT plus other MBA entrance examinations.
Time has been helping the student community for 26 years for carving their way towards success in entrance examinations.
T.I.M.E. has been acknowledged as a multilocation, multi-program regime expert run on corporate lines and offers a wide range of programs for several national as well as state-level examinations like CAT, MAT, JEE MAIN, and JEE ADVANCED with international ones like GMAT, GRE, IELTS, and TOEFL.
Features
India's leading test-prep institute
Best faculty with an experienced background
One of the oldest institutions serving in successful MBA coaching.
Maximum recruitment into the topmost IIMs with a 100% percentile.
Contact and Address:
Aundh:
3rd floor, Soham Complex, Above Hotel Shivsagar, D.P.Road, Aundh, Pune-411007
020-66206546
Bund Garden Road
Office no. 404B, Fourth Floor, PT Gera Centre, Dhole Patil Road, apune:411001
Landmark: Beside Bharat Petrol Pump
9158993523, 020-41212815, 020-66001351, 9158993523
Pimple Saudagar
210, Vision Galleria, Next to Kunal Icon, Pimple Saudagar, Pune:411027
9595405735, 020-27201437
Wakad
Office no. 1, 2nd floor, Kalate Commercial Complex Near Maauli Chowk, Datta Mandir Road, Wakad Pune
9545971259, 9545971259
Kothrud
502, Siddharth Towers, Sangam Press Road, Near City Pride, Kothrud
9158998235, 020-66001360
Kharadi
38/4 Krishna Complex, Above Nirankari Wheels, Hadapsar-Kharadi Bypass Kharadi, Pune
7219306989, 8055421727, +91-7219306989
Chinchwad
Chambers Business Centre, Office Number 1, S.N. 31/16, Old Mumbai Pune Highway Keys Hotel Compound, Above Tanishq Showroom Next to Pune Central, Pimpri Pune-411018
9158996078, 8928405725
Career Launcher
About
Counted among one of the top MBA coaching institutes of the country. The mentors of the MBA classes in Pune teach students how to apply strategies in different complex problems. Every student of Career Launcher is given personalized attention and given instant clarification on the queries asked by the students.
Features
Professionals with an experienced background. Well educated faculty members.
Regular test paper solving and student assessments
Strategically modified teaching syllabus
Comprehensive classroom training
Video lecture guidance
Doubt sessions
IPM book materials plus test series
Contact
Office No. ½, 3rd Floor Land Square Building
Above Barista Café Next to Roopali Hotel,
F.C. Road, 20-7276350001
Email: [email protected]
www.careerlauncher.com
EQL Classes
About
EQL stands for English, Quants, and Logistics, a brainchild of renowned Nayan Ajmera, head trainer of English, Quants, Logic, and a seasoned GDPI-PDP trainer.
A loved trainer in Pune, the EQL hence aids you with proper facilities and quality teaching methods for getting excellent success in entrance examinations as well as corporate sectors.
Features
All area expertise in English, Quants., Logic., and GDPI preparations
Power content of unmatched quality with optimum quantity.
Personalized attention to each and every student.
Well, presentation of content with style. Making it easy enough to grasp.
Digital setup with 3 times syllabus revision and visually engaging sessions
You get well trained for thinking well.
Address and Contacts
Next to HP Petrol Pump, Behind Freshcliq pizza and greetwell, Fergusson College RD. near good luck café Deccan Gymkhana, Pune, Maharashtra 411004
Contact: 9809098686, 9637644823 (WhatsApp)
Email: [email protected]
Website: www.eqlclasses.com
Cetking
About
Established in the year 2012 by Ravneet Gandhi and Avneet Bhatia, Cetking comprises a highly educated faculty of IIM alumna, who not only train you well but also teach you to study smart. With their strategy and assessments, you surely going to crack any entrance examination with ease.
Features
Student-centric teaching program
Result-oriented goal with best study material
Demo lectures.
Smart study sessions
Proper guidance and mentorship
Contact and Address details:
Pimple Saudagar
Off No 312,3rd Floor, Rose Icon, Amenity Building,
Near Vijaya Bank, Pimpale Saudagar, Pune 411027
Call: Centre manager – 09022342214
F.C. Road
Dhyaneshwar Paduka Chowk,
Shreenath Plaza, Ground Floor, FC Rd, Shivajinagar, Pune, Maharashtra 411004
Call: 09022342214
Email: [email protected]
Website, www.cetking.in
Genesis Mentors
About
With the leading role in training students well strategic teaching, Genesis has always been a favorite hub to students for coaching.
It excels in academic studies with the best available faculty members assisting you with the regular doubt-solving sessions to make you a professional corporate member of the sector.
Features
Holds an impeccable record of highest calls to student ratio.
250+ videos covering theories with 15+ eBooks included study material
Online test series with regular mock tests
Practice + doubt solving facility
Address and Contact
Genesis Mentors, 4th Floor, Rainbow Plaza, Pimple Saudagar, Pune
Email: [email protected]
Contact: 7498317775, 9881147462
Protons Training Solutions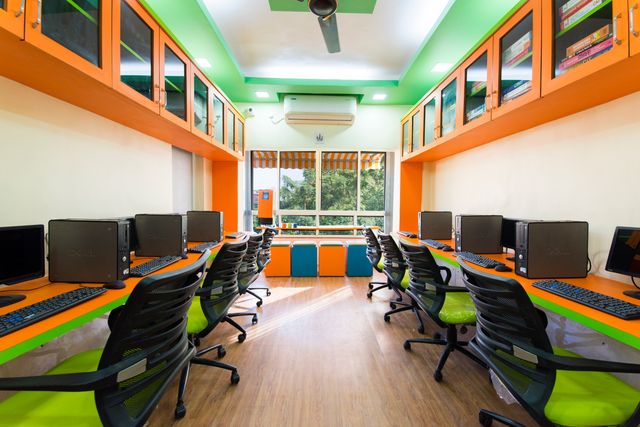 About
PTS is a leading entrance test preparation institute and a one-stop solution for undergraduates as well as postgraduate exam preparations. Programs offers include preparations for National Level Tests like VAR, SNAP, CET, TISS-NET, IPMAT, SET, NPAT, XAT, UGAT, BMCC, and much more.
Moreover, it also holds consulting and visa support to pursue management education from foreign universities.
Features
Personal attention and focus on the basics
Distance learning with a correspondence course and test series pack.
Limited student batches of 20 each
Career counseling and motivational sessions include.
Address and Contact
Flat no. 5, Building no. 1, Deepashri Society, Opposite Reliance Mall, Mhatre Bridge, Erandwane, Pune, Maharashtra 411001
91-8530234900
+91-9823366170
Email: [email protected]
Website: www.protons.in
IMS Pune
About
Starting from the year 1977, IMS has been renowned as a leading training institute, educating over a million students and shaping their careers along with building new success stories each year.
IMS has been a popular training hub for cracking several national and international tests including CAT, GMAT, GRE, CET, SNAP, and NMAT for well over a decade.
Features
Exceptional faculty team working under the guidance of IIM graduates
More than 40 years of training experience
Comprehensive study materials with suitable training programs across the city
All centers strategically located, therefore an easy to reach the spot.
Contacts and Address
Office no. 5, 2nd-floor business avenue, above Peter England showroom, opposite blackberry store, DP Road, Aundh, Pune
Phone- 9960957975
Spark Education Services
About: One of the well-known centers offering CAT coaching in Pune, along with proper guidance and training facilities of other competitive examinations as well.
SPARKs well-strategized programs hone the student's skills and talents, along with ensuring their overall development. These programs also open their minds to the process of self-development.
Features
Limited batch size with a maximum of 25 students each.
Well educated and professional faculty.
Glorious results with a high number of selections and percentile
Improved study materials each year designed by IIM graduates.
Contacts and Address
Office No. 97, 4th Floor, A-Wing, Shreenath Plaza, Dhyaneshwar Paduka Chowk, Fergusson College Road, Pune, Maharashtra 411005
Phone no- 09970366136
CAT king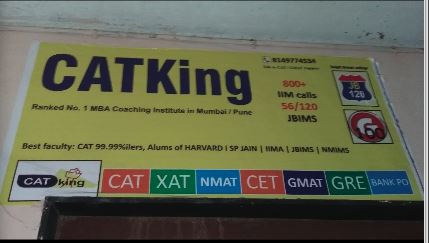 About
Established in the year 2008, CATking is a focused education+ tech company located in the financial capital of India. It is a one-stop destination for each MBA/MS aspirant focusing on strategic, engaging, and high-quality education.
It believes in improving the quality of education by devotion to the vision; empowering with knowledge.
Feature:
The top player in the CAT tutorial category.
Courteous and well-established staff comprising professional faculty members
Well prepared study material with regular test series.
Address and Contacts
Office No 12, 3rd Floor Bjosale Shinde Arcade, Deccan Gymkhana, Deccan, Pune-4, Pune Maharashtra, 411004
P T Education
About: Born on 10th July at Indore in 1993 and started from a small garage, today with a well-established network at Pune and Delhi, PT symbolizes the epitome of a desire to excel and systematize operations in the industry.
The main focus is to grant quality education programs for various competitive exams as well as Development education programs.
Features
Leveraging great talent.
Quality products and delivery
Strict teaching standards
Technology platform with grass-root infrastructure for study.
Contact and Address
PT Education, Shivaji Nagar Pune
Phone- 02025531005
Endeavor Career
About
Not only to shape the aptitude but also to modify the attitude of young aspirants, instilling confidence in them, to make them ready for heading on to life.
Powered by Top B schools' alumna with the best service since the beginning, it has created an unmatched niche for everything, continuing with the motto: dream…endeavor..achieve.
Feature
100000+ selections throughout the country
Vast library with over 600+ IT system of learning
110+ mentors and professional faculty.
2500+ calls from IIMs
Limited batch with individual focus on each student's progress.
Address and Contact
1st floor, Tandale Heights
3/5 Shivaji Nagar German Bakery
Wunderbar, Law College Road, Pune-411004
Phone- 9028014802
Step's Foundation
About
Known for the highly disciplined teaching methodology with authenticity and transparency, its quality coaching is quite famous throughout the country.
Students get benefits from highly competent and passionate faculty members with their innovative methodology of teachings. Not only they have earned confidence and respect for the students but also for the parents.
Features
Highly experienced faculty with a professional background
The good quality study material
Limited batch
Contacts
Phone- 8378970762, 7066338008
Address: 3rd floor, Chandra Shil Apartment next to Hotel Deccan, Rendezvous near Santosh Bakery, Ghale Road, Off FC Road, Pune
Conduira Education
About
Specializing in GRE as well as CAT coaching services, Conduira Education is facilitating students with its team to give their dreams wings for the future.
Features
Well educated and supportive faculty members
Suitable and comfortable infrastructure for a learning environment
Updated study material with regular test series assessments.
Address and Details
CL Educate LTD. Land Square Building F.C. Road, Pune, 411004
CAT Coaching Fee in Pune
Though cracking a CAT entrance can be hard but still, it's enticing when you clear the entrance. Being an edu-hub, numerous several coaching centers are established at Pune with a varied fee structure.
Its professionalism and diversity in the teaching methods demand varied structures in the decided fee structure. A CAT examination requires smart as well as intensive preparation along with well-managed strategies.
Systematic and well-organized study demands a well-managed institute. The fee may vary from INR. 35000 to INR. 75000 per year basis.
Though seeking the pandemic chaos, several institutes have started to reduce their fee structure by the range of 30-50% with an introduction in the teaching as online courses, hence this is a perfect time to enroll yourself for the preferred institutes.
Moreover, you can also claim some fee waiver amounts on the basis of several discount policies they offer.
How to select Best CAT Coaching in Pune
While selecting a proper Institute to hi your dream direction, it is necessary to follow a few checklists and guidelines for making a good decision. Below listed are a few basic points to answer before any judgment!
Testimonials
A good preview of any coaching institute is provided by the reviews and testimonials its students have provided about it. So in order to decide about your coaching, at first take a glance at its ratings.
Each Institute will claim the best ratings about itself but students and customers never lie. Check out the testimonial and take your decisions, therefore.
Study material
The study material they have offered also tells a lot about the institute. It is based on the tested knowledge and skills a faculty has teaching in a particular Institute. Moreover, it is you who had to study and go through that material. Henceforth, it is necessary to test a bit before taking it forever.
Teachers and Faculty
A student is a mirror image of his teacher. A good teacher not only lightens your path but also shows you the direction with precautions. Therefore, before enrolling in any Institute, do a little research about its faculty members.
Fee structure
Many institutes claim more than the necessary fees. Therefore, also plan the enrollment with a well-designed budget. Hunt a little. It will help.
Selections
Last but not the least, the number of selections talks about the strategies and methods an institute uses for its students. You need to study smart. Hence act smart and make your decisions wisely with some proper research about the institute's history.
Conclusions
The above-cited article is going to help you a lot while taking any decision. For further details contacts and other necessary information have been provided with the related paragraphs.
So before taking any decision about your future, do act a little wise and research well. Always remember, you get what you pay for.