The IELTS exam can be passed without coaching, but enrolling in a coaching class increases your chances of passing the test. IELTS Preparation in Mumbai can be improved by enrolling in one of 285 IELTS Coaching Classes in Mumbai.
Competition is good for your performance and for your IELTS preparation. When it comes to extensive preparation, the best IELTS coaching institutes are unbeatable.
As a result of receiving the best IELTS exam coaching in Mumbai, you'll be able to improve your chances of winning.
The IELTS exam is highly competitive, so getting the right guidance is essential.
As a result of IELTS coaching, you will be able to maintain a higher level of consistency and regularity.
Regular IELTS classes with like-minded peers make the grind a little more bearable
Teachers at coaching institutes such as Gateway Abroad, Veta, and Let's Talk Institute can do wonders for your IELTS preparation and help you get on track.
The more effective the coaching, the greater the likelihood of success. Each student, on the other hand, has his or her own set of expectations. As a result, it is important that you choose the best IELTS coaching in Mumbai based on factors such as faculty experience and course fees as well as your own personal strengths and weaknesses in preparation for the test.
These are the Best IELTS Coaching Classes in Mumbai
QDS Pro IELTS Coaching
QDS Pro is a leading test prep company based in Mumbai that provides unprecedented test preparation services for all Study Abroad entrance exams like GMAT, GRE, SAT, IELTS, TOEFL,… and all Indian MBA Entrance Exams like CAT, MAH-CET, BBA Entrance Exams, NMAT, SNAP, XAT, CMAT,.
Their broad range of services include Live Online Tutoring, Offline Coaching Centres in Mumbai, Video Lectures (Self-Prep Courses), Doubt Solving, Mock Test Programs and Home Tutoring; these services spread across all of their product offerings. Unlike most IELTS Coaching Classes in Mumbai that have ventured into Admission Consulting and Admission Consulting Firms in Mumbai that have ventures into IELTS Coaching, thereby compromising on delivering quality in both services, QDS Pro boasts of being solely focused on a student's IELTS Prep.
Unique Selling Points:-
Personalized Batches of Maximum 4-5 Students | One-on-One Private Tutoring
Personalized AI-Powered Tools
24*7 Live Chat System
Exclusive Student Progress Tracking Software
Master Workshops
Live Reviser Classes
Power-Packed Testing System (Full-length, Sectional, Topic-wise, Challenger, Speed Enhancement & Remedial Tests, Tests Generator Tool, Challenge your Friends,…)
Video Solutions also made available (in addition to Detailed Explanatory Answers) for all of their IELTS Study Material
C.A.T. Approach (Conceptual Understanding, Application and Testing)
Much of the credit for QDS Pro being the Best IELTS Coaching Class in Mumbai can be attributed to their C.A.T. Methodology, let's look at each of these aspects in detail:-
Conceptual Understanding:-
Personalized Batches of Maximum 4-5 Students | One-on-One Private Tutoring
Concepts and Strategies covered from the Very Basics to the Most Advanced level
Highly Qualified and Experienced Faculty
Complementary QDS Pro IELTS Video Lectures (Self-Prep Course) (accessible anytime and anywhere, using any device)
Application:-
Access to QDS Pro Online Prep Portal
Huge Study Library (Popular Author Books and Publications)
Question Banks, Practice Worksheets & Homework Assignments
Hard Copies and Soft Copies of All Study Material
Detailed Explanatory Answers and Video Solutions
Unlimited Classroom Doubt Solving Sessions | Unlimited Live Online Doubt Solving Sessions
Testing:-
A. Mock Tests:-
5 Academic Full-length Mock Tests
5 General Training Full-length Mock Tests
45 Academic Sectional Tests (15 Each for Reading, Listening and Writing)
45 General Training Sectional Tests (15 Each for Reading, Listening and Writing)
20+ Academic Topic-wise Tests
20+ General Training Topic-wise Tests
Strategy Videos for IELTS Academic Reading, Listening, Writing and Speaking Modules
Strategy Videos for IELTS General Training Reading, Listening, Writing and Speaking Modules
Remedial Tests for Personalized Inputs (Tests focused on Identifying and Improving your Weak Areas)
Tests Generator Tool
Challenge Your Friends Zone
Detailed Explanatory Answers and Video Solutions
B. Analytics:-
In-Depth Analysis
Peer Benchmarking
National Ranking
SWOT Analysis
Remedial Measures
Expert Recommendation
Utilities:-
AI-Powered Study Planner Tool
Exam-Related Alerts and Notifications
Discussion Forum
Ratings and Reviews:-
Google – 4.9/5.0
Justdial – 5.0/5.0
Facebook – 5.0/5.0
Demo Session:-
As per student's preference, they provide demo session in all 3 formats, that too for a module of the student's choice:-
Classroom-Based at the Centre
Live Online on their Live Online Tutoring Portal (QDS Pro Online Prep)
Recorded (accessible on QDS Pro Online Prep portal)
Other Services for IELTS Prep:-
Live Online Tutoring
Video Lectures (Self-Prep Courses)
Doubt Solving
Mock Test Programs
Home Tutoring
Other Courses:-
All Study Abroad Entrance Exams like GMAT, GRE, SAT, IELTS, TOEFL,… and All Indian MBA Entrance Exams like CAT, MAH-CET, BBA Entrance Exams, NMAT, SNAP, XAT, CMAT,…
QDS Pro Contact Details:-
Contact Numbers – +91-99207 15001 | +91-73033 15003 | +91-73033 15004
Email Addresses – [email protected] | [email protected]
Centres – Charni Road | Andheri
Websites – QDS Pro Website | QDS Pro Online Prep WebsiteGoogle | Facebook | Twitter | Instagram | YouTube | LinkedIn | Pinterest
1. Excel Academy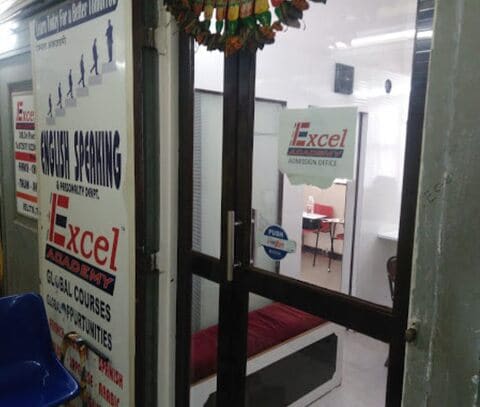 In addition to being considered one of the best institutes in Mumbai, this one's main goal is helping students pass the IELTS entrance examinations. There are ten different languages used in this institute's speaking, writing, and conversational courses.
There are centers in Andheri and Malad of this prestigious corporate training academy. Nearly 80% of the students in this institute receive training, and the institute provides placement services for students who enroll and take classes in this institute.
Excel academy teaches Spanish, German, Chinese, Japanese, Italian, Russian, Persian, Portuguese, and French. The institute offers courses at the conventional, reading, writing, and translational levels, and has air-conditioned classrooms to enhance your learning experience.
Facilities:
Resources who are exceptionally energetic, experienced, and committed to delivering the best possible service.
For customised consideration, clumps of four to six people are gathered.
Courses that are specifically tailored to the needs of each ( balanced).
There are two types of bunches: ordinary and quick track.
Structured with skill Course materials and meetings that are well-organized.
Detailed information about class times is provided.
Homerooms are air-conditioned to improve learning conditions.
In addition to conversational and perusing levels of instruction, we also offer composition and translation courses.
Address – 309, Shoppers Point, SV Rd, Lohana Colony, Andheri West, Mumbai, Maharashtra 400058
Contact Number – 092232 26767
Inspirus Education
In contrast to other institutes that rely on tricks to pass tests, this one emphasizes the development of skills that lead to mastery. Three key elements comprise the teaching philosophy: concept, application, and strategy. SAT, GRE, and GMAT scores averaged 95% in this institute.
In addition to air-conditioned classrooms and laptop computers, the institute has software and software-related equipment available to its students.
Students are provided with study materials by the institute, and the library is stocked with books if you have any questions about your studies. The online process also provides access to subject materials and course information.
Facilities:
Preparation was driven by the educator
Clusters of small groups
Consideration of a single issue
Weekends and weekdays are clustered together in the calendar.
Five mock tests and a discussion comprise the study material.
Online library access
Support from tutors who are dedicated to their work
Address – 202, 2nd Floor, Lavlesh Court, F/1412 W.P, Varde Road, Bandra West, Mumbai, Maharashtra 400050
Contact Number – 096191 71868
TUTOR JAR
This IELTS coaching center in Mumbai is widely regarded as the best in the country. Faculty members at this institute are among the best in the industry, and they help students pass the IELTS entrance exam.
They are all highly qualified professors who come from prestigious universities. Students wishing to study in the United Kingdom, the United States, Canada, Australia, Singapore, New Zealand, Switzerland, Dubai, Ireland, and Malaysia can receive free counseling from this institute.
In select locations, the company also offers training for tests such as the GRE, GMAT, SAT, IELTS, and TOEFL. SAT, GRE, GMAT, and LSAT preparation courses are also available at this institute in addition to IELTS and TOEFL classes.
Facilities:
There are rules that should be followed.
Resources that are of the highest quality
Planning that is flexible
Best library for exam material
Assessment Tests on Demand
Address – 1st Floor, F-3, F-5 Moksh Plaza, S.V Road, Opp Borivali Station, Borivali West, Mumbai, Maharashtra 400092
Contact Number – 077188 22776
Grad-Dreams IELTS Coaching in Mumbai
This institute's primary goal is to provide students who are taking exams with a high-quality education. Those planning to work abroad or immigrate from one country to another should take the general training module.
The IELTS entrance exam is taught by the best instructors at this institute. They are all highly qualified professors who come from prestigious universities. You can take classes at this institute at any time that works for you, and there is a guarantee that your scores will improve.
The trainers are certified in their fields. This institute offers study materials and practice tests. Speaking and listening are identical in both modules. This institute has separate reading and writing sections.
Facilities:
Intensive preparation and practise for Reading, Writing, Listening, and Speaking.
In order to maintain a close-to-home focus, a solid and sensible instructor understudy ratio must be maintained.
Understudies can improve their chances of scoring by gaining a thorough understanding of the example and question types.
6 hours of sentence structure review will force students to quickly recall the fundamentals of English syntax, increasing their language proficiency to the level required for the test.
In each class, students read aloud the essays they wrote for school in order to discuss the writing with the teacher and other students.
In addition to 2 hours of conversation, the understudy is required to maintain self-concentration as well as organised schoolwork on a regular basis.
The understudy's relational abilities and certainty were improved in a variety of ways during these fascinating and intelligent meetings.
Talks are organised by expertise in a way that allows for a thorough understanding of the skill with practise.
A one-on-one conversation with the staff to discuss and evaluate one's exhibit. A coach's presence opens up an infinite number of possibilities for conversation and uncertainty illumination.
Students who are not proficient in English are also considered. It is taught to powerless students at the primary level so that they will be open to learning and show significant improvement in their language usage and their confidence.
Address – 209, Falcon Court, Hari Om Nagar Road, near Eastern Express Hwy, Mulund East, Mumbai, Maharashtra 400081
Contact Number – 093735 11075
Geebee Education IELTS coaching in Mumbai
As a result of this institute, you can begin your career in a proper manner. As more than ten thousand companies and organizations in over one hundred thirty-five countries recognize IELTS as a verification level for your English language, this institute helps you pass the IELTS test.
The IELTS academy helps you reach a higher level of proficiency in the English language. One of the oldest IELTS institutes in Bangalore, it provides training to students to help them improve their knowledge levels. Thanks to its top-notch instructors, the institute provides training that enhances competence and skills.
Facilities:
Counseling for Study Abroad at the Front Lines
Universities and Programs to Choose From
Pre-application process and formalities of admission
Annotation of the documents
Instructions for the GRE/GMAT, IELTS, TOEFL, and SAT that are all extremely serious exams.
Scholarships that benefit the community
Being approved for financial aid Advice and guidance before leaving for your trip Assisting with travel planning
Straightforward bits of knowledge to fortify
Address – 501, 5th Floor, Soni Shopping Centre, Above Om Jewellers, Lokmanya Tilak Road, Borivali West, Mumbai, Maharashtra 400092
Contact Number – 022 2899 8333
Reinforce Insights
As one of the best institutes in Mumbai, this one is highly regarded. In this institute, the Listening Test lasts for 30 minutes, is divided into four sections, and consists of 40 questions.
The reading exam lasts for 60 minutes, during which time the candidate must complete three sections and forty multiple-choice questions. The writing portion of the exam lasts for 60 minutes, and the candidate is required to write two essays.
Between 11 and 14 minutes are allotted for the candidate to speak during the interview. Attend the discussion and speak on a topic that has been assigned.
Facilities:
Assessment of multiple sources
Projects are customised to meet your specific needs.
Learning that is delivered in an organised manner
According to the principles of adult learning and experiential learning
Address – Shop No. 1, SV Rd, Malad, Daruwala Compound, Malad West, Mumbai, Maharashtra 400064
Contact Number – 099204 71797
I promise English academy
This English school is well-known for its excellence in the TOEFL and IELTS tests, among others. The coaching institute's amazing study environment and brilliant faculty are to thank for this.
The coaching institute is located in the heart of the city's educational system. Speaking of courses, the coaching institute offers TOEFL and IELTS preparation.
Facilities:
iPROMISE, one of the pioneers in this field, guarantees 100 percent satisfaction.
Anyone unable to attend regular classes can watch video lectures on social networking sites or take advantage of online training..
Address: A2Z Xerox, 4th Floor, 403 A Vertex, Vikas Court Lane, Andheri East, Mumbai – 400069
Contact: +91-7558-6404-50
Intuit Education
Mumbai-based consultant Sudeep Lalka wanted to make a difference in India's education system by introducing the latest educational practices.
After studying architecture in Mumbai and innovative management in the United States, he returned to India and founded Intuit Education with the express purpose of educating Indians.
Founded in 2014, the company was created with the goal of helping students realize their dreams of working abroad without feeling disoriented about their career paths.
Facilities:
Small Batches
Career Counseling
ETS Certified Faculty
Private Coaching
Unlimited Hot Beverages
Unlimited Doubt Solving Support
Address: E7 Commerce Centre, Tardeo Road, Janata Nagar, Tardeo, Mumbai – 400034
Contact: +91-7770-0027-70
PratiNidhi's English Academy
The IELTS and Spoken English courses offered by this reputable institution are taught by faculty who are dedicated to providing students with the best resources for the exams.
In addition, private tutoring sessions have been included, which could be extremely beneficial to students in need of additional assistance. As a result, this coaching center offers affordable rates.
Facilities:
Intermediate & Advanced Grammar Basic Grammar Spoken English
Vocabularies: Basic, Intermediate, and Advanced
English Speaking Classes for Beginners
Spoken English Classes for Intermediate Students
Language learning is progressing.
Personality Growth
Preparation for an Interview
Modulation of Voice MTI \Pronunciation
Vocalization and Accent
Address: A-304, 3rd Floor, Vertex Vikas Soc, Andheri Court Lane, Andheri Kurla Road, Andheri East, Mumbai – 400069
Contact: +91-7700-9880-60
5 things to consider before joining IELTS coaching in Mumbai
Every aspirant should know every detail about the exam while preparing for it. Candidates should be aware of the IELTS duration, fees, and pattern when preparing for the exam.
If you are aware of these facts, you can plan your preparations accordingly. You may be researching IELTS courses available offline or online in order to achieve success in the exam.
Past experience and achievements
When joining ask the institution; Why is it better than other courses or classes? What has the institute accomplished in the past?
What an institute has accomplished in the past and what it has to offer should be evident in its past accomplishments. If it meets your expectations and you find your fees reasonable for the services, only then join the classes.
Demo classes and fee structure
Are there any demo classes that you can attend before enrolling in the course? Often, a good institute will offer at least one trial class so that students can get a feel for what they can expect from the coaching and what they should prepare for. Is there a fee schedule? The candidate's first question is often about the fee structure. The fees charged by most institutes and coaching centers are similar, but what sets one institute apart from another is the offers it makes.
Timings classes
To ensure that a student attends class regularly, check the batch timing and attendance policy. Students should also check to see if the class can be rescheduled in case of an unexpected event.
Duration of the course
Students should know how long a course will last. It is important to verify that the institute offers a variety of materials and mock tests for the course. How many mock tests does the course offer?
An excellent institute will often offer mock tests and material that has been tried and tested before enrolling in the program. Answers to these questions are provided in the form of short tricks. Additionally, they offer IELTS mock tests for the reading and listening sections.
Faculty and feedback
Approximately how many students are enrolled in a single class, and how experienced are the faculty members? In order to receive personal guidance, it is important to know whether the faculty has the experience, as well as the student-to-teacher ratio.
What is the institute's feedback structure? Numerous institutes hold individual feedback sessions with students to let them know where they need to improve.
Conclusion
In order to prepare for the IELTS test, it's important to become familiar with its format. It's easier to answer questions when you're familiar with the test's format. Speaking, Reading, Writing, and Listening are the four skills that are tested in IELTS.