IAS or the Indian Administrative Service is one of the most coveted career options in India and the entrance exam for this job post is conducted by UPSC (Union Public Service Commission).
Besides the prestige, power, perks, and stability, there are many more benefits that make it the best profession in India. Not only the income but the security after retirement makes a person eager to want to be an IAS officer.
Preparing for the IAS exam is, however, a challenging time for students. The study pattern, the thinking level, the psychology, and everything about this exam is a level above others. The exam screening pattern itself is not easy. But as they say, the best is not the easiest.
The stages of the exam are as follows:
Prelims
Mains
Interview
The syllabus of UPSC is very wide and ginormous. It consists of current affairs, science, and technology, politics, history, economics, public administration.
Although it is good to believe in self-study and go for a shot at UPSC, it is best to have yourself guided by experts for the most challenging exam in the country.
There are some excellent institutes that help candidates to crack the exam. Their support and training, backed by their skills, expertise, and track record, can give the required boost to the confidence of the candidates – that they can do it.
These are the Best IAS Coaching institute in Pune
Pragnya IAS-Best IAS Coaching in Pune
Contact Details

Pragnya IAS Academy
S.No.251/3/9, 252/1/8 Plot No.7, 4th Floor,
Sai Space, Common Wealth Society,
Near Telephone Exchange, Aundh,
Pune, Maharashtra – 411007.
Pragnya IAS Academy is a Highly Rated centre for IAS Coaching. It generally starts with the setup of an education system that is digital. The experienced stream of faculty members who belong to great institutes.
PRAGNYA GROUP of IAS is one of the oldest educational institutions in south india which have trained thousands of IAS ASPIRANTS. pragnya cobine best in educational practices, powered and propelled by a philosophy of education that is eclectic and yet truly modern.
pragnya group of IAS institution enjoy the unique distinction of being the first  institute in south india to introduce satellite based teaching system with help of highly qualified teachers, pragnya IAS student have performed commendable from the past decade and there's alumni are successfully placed in most prestigious cadets in GOI.
Pragnya IAS insightful guidance helps people stay ready. The kind of readiness Pragnya IAS offers here goes beyond articulating visions, delegating accountabilities or tasks, or addressing "how you come off to those around you."
It starts with a willingness to be coached, to be coachable, to have someone help you prepare for what you know you must do. Being coached is difficult but extremely rewarding work. So if you are confused about which Coaching should you join for Cracking IAS? Then Pragnya IAS is Your Go to go Destination.
A responsive and dedicated doubt center for clearing various doubts. The sessions for mock interviews are also provided by the same. The complete exposure of competition is only possible with a high number of students enrolling. So, you are eligible for all types of facilities after joining Pragnya IAS Academy.
Advantages with Pragnya IAS
Intensive course with focus on Prelims, Mains and Interview process
Materials from Pragyna Publications
Coverage on Current affairs
Weekly assessment from Prelims and Mains point of view
Upto 50 test series as we test you before UPSC does
Access to recordings of all the lectures
Decide your own pace of preparation with help of our experts
Essay Writing
Techniques on newspaper analysis
Excellent Classroom Infrastructure
Very High Success Rate
AC Classroom with Audio Video Equipped
Well Acclaimed Study Materials
Extended support even after completion of the course
Contact Details

Pragnya IAS Academy
S.No.251/3/9, 252/1/8 Plot No.7, 4th Floor,
Sai Space, Common Wealth Society,
Near Telephone Exchange, Aundh,
Pune, Maharashtra – 411007.
Vaji Rao and Reddy Insitute- Best IAS Coaching in Pune
Vajirao & Reddy is India's well-known Institute preparing candidates for the Civil Services Examination at all three levels – Preliminary Test, Main Examination, and Personality Test. The Institute of Vajirao and Reddy was founded in 1989 by S. S. Chaudhary Sir with the aim of empowering IAS candidates to enhance their skills to Clear UPSC Civil Services Examination like IAS, IFS, IRS, IPS, and State Level PCS examinations.
There are tons of Qualities and features of the VajiRao Institute. Some of them are:-
Interactive Classroom Coaching
Detailed Test Performance Analysis
Library Facility
Hostel Facility
Latest and Updated Study Materials
Excellent Administrative Management
High-Quality Postal Coaching Material
Standard Practice Test Series Programs
Interview Guidance and DAF Analysis
Motivational Classes by Our Institute's Toppers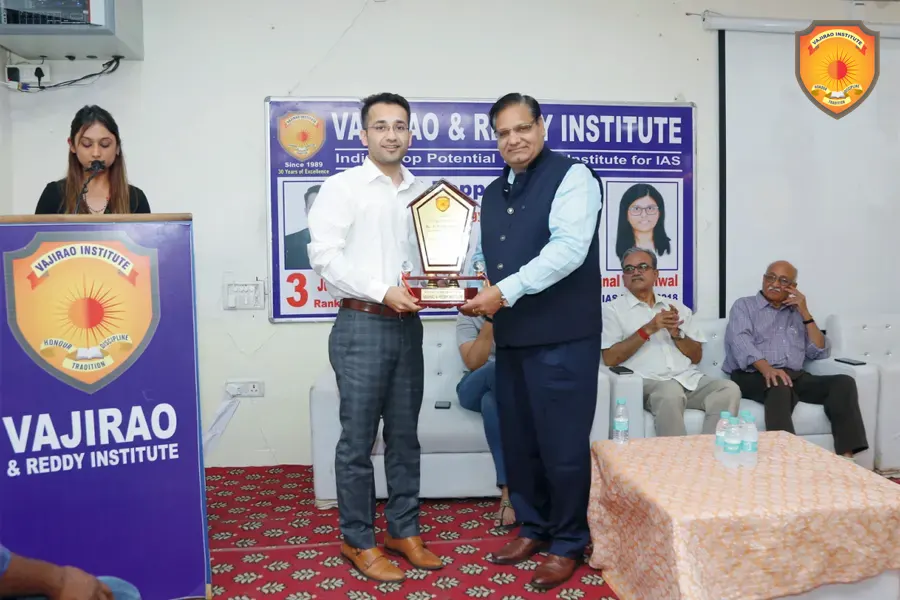 Teaching Style
Colored figures & interlinked flow charts to illustrate even a small concept. It is this approach that fetches you a 360+score in the IAS Main.
Simple & lucid explanation in day to day language, using innovative analogies to totally simplify the concepts.
A lot of interactivity during classroom discussion, not consolidating your understanding.
Greater emphasis on explanation rather than dictation in the classroom. We are strongly convinced that the dictation style of teaching is really primitive and takes away the joy of learning. All the notes you need are already in the printed form, which we revise and update after every batch. So, you can use your classroom sessions to actually develop mastery of the concepts.
Contact Details:-
19/1A Shakti Nagar, Nagiya Park Near Delhi University,
New Delhi – 110007 (India)
Talk to Counselor: +918171181080, 9999458938
Telephone No. 011 4254 7314
Email: [email protected]
Chanakya IAS Academy
The academy runs on the philosophy that every individual is born to succeed. Found by Mr. AK Mishra, the academy diligently works to train the candidates in both Hindi and English medium.
Quality teaching and individual attention are the academy's trademark, the faculties train the students to be competitive and hard working.
With a vast amount of experience in the field, Chanakya tries to impart leadership abilities, responsibilities, and mind-power development alongside the knowledge.
The academy's unique methodologies prepared by the Success guru are not to be missed. The academy has its branches spread all over India so that every candidate gets a chance to succeed. The institution also has a remarkable record of results.
The courses and facilities offered by Chanakya are:
1-year Upgraded Foundation Course
2/3 Years UFC programs (For Undergraduates)
Short-term (3 months) Courses
Preliminary Test series
State Level Exam Quiz
Mock Interview for UPSC Personality Interview
Seminars on IAS
Well-Stocked Library
They have arrangements for distance Education as well including Online or Postal educations.
Contact details:
4th Floor, Millennium Tower,
Bhandarkar Road, Opposite Kotak Mahindra Bank,
Deccan Gymkhana,
Pune, Maharashtra- 411004
Phone: 9112264446, 9112264447, 020-25660001
Email: [email protected]
Website: www.chanakyaiasacademy.com
ALS IAS Academy
ALS is popular among the candidates for their high-end educational programs and unique use of technology and it aims at weaving a perfect civil servant out of every candidate that joins their force. They provide coaching in both mediums namely, English and Hindi.
The engaging Geography and History classes are their highlights though they excel in every other class as well.
The coaching also offers workshops and training programs as a bonus. Besides this, self-evaluation, periodical class tests, and answer writing sessions all make the campus stand out from the rest.
ALS has been ruling in the business for the last 25 years. For the last 3 times, the AIR 1 has been from ALS.
More than 2000 students have successfully cleared the exam under the guidance of ALS mentors.
Contact details:
Dhruta capital, 2nd floor,
Budhwar Peth,
Pune, Maharashtra- 411002
Phone: 986046041
Email: [email protected]
Website: www.alsias.net
Paradigm IAS Academy
Ambrish Kumar himself teaches at this institute which is the very foundation of success in Paradigm. Further, Paradigm IAS Academy offers combined classes for Hindi and English medium students.
So if you're weak in English, then this also helps you develop your English language skills.
Joining Paradigm IAS Academy offers many benefits to the students such as:
Faculty of Delhi ensuring Delhi center's standard of coaching is delivered in Pune as well.
Result oriented course.
Error monitoring system
A scientific approach to teaching.
Well-equipped classrooms with ACs, projectors, and audio-video effects.
You should definitely join Paradigm IAS Academy if you want to learn directly from a genius. This group has excelled in this field and has an excellent track record.
Contact details:
Chandrasheel apartment, 3rd floor,
Near hotel Surya, Opposite MJM Hospital,
Ghole Road, Shivaji Nagar,
Pune, Maharashtra- 411005
Phone: 08411893043 / 9130506863
Email: [email protected]
Website: www.paradigmiasacademy.in
Abhyankar's IAS Academy
The Institute was founded by Dr. Ajit Abhyankar. Abhyankar is the premier center in Pune for developing skills in the UPSC field.
The best thing about this institute is that every student receives personal attention which helps even the shy-most students to develop their personality.
'' Major attention to minor details'' is said, believed, and followed at the Abhyankar's IAS Academy.
The programs offered by the academy are Public Administration, Sociology, Essay, General Studies, Current Affairs, and Interviews.
The best advantage of joining Abhyankar is that the batch strength does not exceed 30 students. This helps the professor to focus more on the students individually.
Contact details:
104 Unique House,
Nargis Dutt Road, Opposite Central Bank of India,
Model Colony (Near Autoline's petrol pump),
Shivaji Nagar,
Pune, Maharashtra- 411 005
Phone: +91 9371029463
Email: [email protected]
Website: http://abhyankarias.com/
Study Circle
The study circle has been creating history for 27 years. The numbers in the logo of the academy speak for themselves. The institute has 26 centers. More than 3, 00,000 students have managed to grab knowledge from this circle.
And out of these students, around 1,20,000 have gone on to become high-ranked officers in our country.
This group also won PM's award for administrative excellence in 2016. The study circle is the pioneer in training the students for civil services in Maharashtra. Also if you're more comfortable in Marathi, then this is your first choice institute.
The circle was founded by Dr. Anand Balaram Patil to ensure that the students who are not fluent in speaking a foreign language can also raise high in our society.
The results are brilliant. On average, 1 in every 3 students is selected. They also offer a test series that helps you in developing the exam temperament required to crack the exam.
Contact details:
Study Circle, 3 / 4,
Amit Complex, 474 B,
Sadashiv Peth, Tilak Road,
Pune, Maharashtra- 411030
Phone: 24486245, 24490619, 65230847
Email: [email protected]
Website: http://studycircle.guru
Unique IAS Academy
The Unique Academy, Pune was founded by Mr. Tukaram Jadhav & Mr. Malhar Patil with the vision of making a substantial difference to society through the field of education.
The Academy has become a renowned and well-established name in the arena of coaching for Civil Services Examinations: UPSC and MPSC.
For more than the last fifteen years since its commencement, (informally in the beginning and formally since 2006) it has carved out a niche for itself as a reliable, student-centric, and result-oriented institute in the field of civil services coaching, be it state level or central level.
It offers comprehensive coaching, a full syllabus covered, practice tests and model paper solving. Notes and updated study material is provided in lucid and simple language so that the students can cope up with the dynamic nature of the exam.
Personal attention, the progress of every student is monitored and specific inputs are provided as per requirement.
Contact details:
S. No. 1201, C-A,
Shivteerth Building,
Above Bank of India,
Fergusson College Road,
Pune, Maharashtra- 411004
Phone: 020 2553 0335/ 98901 92929 / 99236 73344
Website: www.theuniqueacademy.com
Bhagirath IAS academy
Bhagirath IAS Academy' was established by Shree Ranjan Kolambe in 2007. It has earned renown as one of the best UPSC and MPSC classes in Pune within a very short period.
Its motto "exceeding excellence" serves as a constant reminder to the Academy and to its students to long for and stride along the path leading to excellence, not just in studies but in a larger goal of life as well.
The academy has excelled in coaching for the UPSC/MPSC Civil Services exam with the impressive array of the students who got selected for various posts.
Apart from the regular year-round batches, various short-term seminars are arranged for example a Lecture Series on Economic Survey of India.
The Academy, through its Publication Division, has published quite a few books, 5 in Marathi and 1 in English, all by only one person, viz. founder director Mr. Ranjan Kolambe.
These books too have received unflinching loyalty from thousands of students especially the ones who are preparing civil services in Marathi.
The Bhagirath Academy has fundamentally focused on hardcore classroom basic coaching, gradual building of clarity of current affairs, the practice of objective and subjective question papers, in addition to the overall personality development of the students.
The institute believes that the basic understanding of the various subjects is a sine qua non for the students to be able to stand the huge competition.
Contact details:
2nd Floor, Mantri Heights,
Near Dakshin Mukhi Maruti Mandir,
Above Indian Bank,
Near ABC Chowk, Shaniwar Peth,
Pune, Maharashtra- 411030
Phone: 8087833999, 7378406920
Email: [email protected]
Website: www.bhagirathacademy.in
Conclusion
These are the top IAS Coaching Institutes in Pune which will help you fly high in your life.
These coaching institutes can boost up your confidence and help you perform well in the most rigorous exam in the country. Not only this, but they also help you become a better person which is what life is for.
Personality development and the broadening of the mind are some of the things which cannot be done by self-study. So not only do these institutes help you pass the exam of UPSC, these institutes teach you how to perform well in life as well.
Also Read:-