The International English Language Testing System (IELTS) assesses the language proficiency of people who wish to take this top-level exam in order to study or settle in a country where English is widely used in communication.
It employs a nine-band scale to clearly identify the level of proficiency, which ranges from non-user level Band-1 to expert level Band 9.
If you have aspired to settle abroad or pursue higher education, you must read the most recent information provided in the best article of Best IELTS Coaching Institutes in Amritsar, Punjab to crack the most sought after the exam, IELTS, by knowing major tips and tricks to pass it with flying colours.
These are the Best IELTS Coaching in Amritsar
English World, Amritsar
English World is the leading IELTS institute based in Amritsar for the best study abroad guidance platform for candidates who wish to get affiliated in the topmost colleges or universities abroad for higher studies or those who wish to enrol for a Permanent Residency procedure through the General IELTS Test Training programme.
The ongoing process of working with students is to provide an honourable career abroad. Vikram Khanna founded this prestigious institute. In recent years, it has had a large student base of 5000 students and has demonstrated an outstanding success rate of 100 per cent every year. This institute specialises in three areas: study visas, immigration, and tourist visas in English.
The best Counselling team assists students in resolving their concerns and advising them on how to achieve the highest possible scores in order to be considered for study abroad.
Features:
English Spoken Course
Master of English Course
Personality Development Course
Phonetics Course
IELTS Preparation Course
Address: SCO 27, B – Block, Ranjit Avenue, Amritsar, Punjab 143001
Contact Number: +911835008999
Website: https://www.englishworld.co.in/
Star Wings The Englishpedia
In this day and age of fierce competition, the education sector is also under pressure, so in order to stand out, Star Wings performs as the most skilful platform to handle the students with great expertise and experiences all at once.
The founders and patrons of educational institutions established by them have always emphasised adherence to excellence, ethics, and values. Students are constantly encouraged to develop their strategies and come up with novel solutions for them.
Wings of the Stars The Englishpedia transforms its students' learning experiences by relying solely on IELTS-related software, Movies, Clips, PowerPoint slides, photographs, illustrations, Videos, or overhead transparencies.
Adv. Damanjot Singh Sandhu BSC, LLB, LLM founded this prestigious institute. It is ranked second among the Best IELTS Coaching Institutes in Amritsar.
Features:
Spoken English
Advance Writing Course
Extensive Reading Course
Online IELTS
Apply Visa
Address: Bus Stand, SCO 55 F, First Floor, City Centre near, Amritsar, Punjab 143001
Contact Details: +91-9988181727
Website:https://starwingsgroup.com/
Ixora Academy Best IELTS Coaching in Amritsar
Ixora is a well-known coaching institute in Amritsar that was founded with the goal of providing quality education to students through authentic counselling
. Ixora instils the core values of quality, innovation, and economy in the hearts of its students. Being a partner of prestigious organisations such as IDP, British Council, Division of India, Pearson PTE, and others in a wide range of fields around the world is an accomplishment in and of itself for the Ixora Academy.
This institute began operations in November 2011 with the primary goal of developing and delivering proficiency levels that would set the standard. Ixora Academy is ranked third among the best IELTS Coaching institutes in Amritsar.
Features:
Levels of teaching programmes that are logical and have been tested: The teaching methodology is divided into four layers: Fundamentals, Cloud, Sky, and Star.
Study modules that are well-structured: All modules are 90 minutes long.
Study materials that are well-designed: According to Cambridge guidelines, all of the material is well designed.
Remedial classes for students who learn at a slower pace
Special classes are available for students who want to achieve a band score of 7 or higher.
There is a high teacher-to-student ratio in the Amritsar branch, with over 55 trainers. As a result, you can be confident that you will receive the best instruction possible.
Batch size is limited:
The majority of classes have 25-32 students.
Counseling sessions that are diverse
Services of Transportation
Infrastructure that is well-designed
Address: 1st Floor, C Tower, Ranjit Avenue Opp. Police Officer Enclave, Old Jail Rd, Amritsar, Punjab 143001
Contact Details: 8591870117
Website:https://www.ixora.in/
Master Prep
Masterprep is a well-known English language training institute that has been providing intensive yet exciting programmes for the past 19 years. This academy has consistently worked to improve its delivery while providing proper guidance to students.
Masterprep prepares students for IELTS, TOEFL, Spoken English, and other exams. With our systematic approach of inducting, preparing, and practising with trainees, students are able to pass the exam. Master Prep is ranked fourth among the best IELTS Coaching institutes in Amritsar.
Features:
Masterprep has its own curriculum that incorporates the most recent advancements in the field of English Language Teaching.
The training style is highly interactive, with numerous workshops and presentations designed to instil skills in candidates in order for them to specify their targets and achieve their objectives.
The three approaches are as follows: structural view, functional view, and interactive view.
Structured classrooms, experienced faculty, face-to-face interactive classes, self-managed learning practises, and so on comprise the teaching methodology.
Daily Diary
Free Downloads
Practice test
Video Lectures
Address: DISTT Shopping Complex, SCO.37, 4th & 5th Floor, B – Block, Ranjit Avenue, Amritsar, Punjab 143001
Contact Details: 0183-5055376 -73 , +91 7347012772
Website:https://www.masterprep.in/
Skytouch Immigration Amritsar Punjab
Skytouch Immigration is a market leader in the field of international education consultancy and IELTS and PTE coaching. It offers high-quality education as well as visa services.
In recent years, Indian students have expressed an interest in pursuing higher education in countries such as Canada, Australia, New Zealand, and the United Kingdom. Skytouch Immigration is ranked fifth among Amritsar's Best IELTS Coaching Institutes.
Features:
Study Visa
Tourist Visa
Visitor Visa
Business Visa
Permanent Residency
State Sponsorship
Address: B – Block, Ranjit Avenue, Amritsar, Punjab 143001
Contact Details: +91-73409 37999 +91-73409 53200
Website:http://skytouchimmigration.com/
Cambridge International Academy
Cambridge International Academy is a well-known institute founded by the well-known crime journalist and director of this institute, Mr JP Singh, who had a difficult life before introducing himself to the opening of this Academy to cater to the students' desires of settling abroad with the goal of scoring the top bands by gaining expertise in the IELTS exam.
Visa assistance is available for a variety of countries, including Canada, the United Kingdom, Australia, the United States, France, and Dubai.
With the best counsellors, it guarantees to provide the best services such as IELTS Coaching, PTE, OET, and so on. Cambridge International Academy is ranked sixth among the Best IELTS Coaching Institutes in Amritsar.
Features:
Spoken English Course'
Personality Grooming
Professional Training
Accent Training
Business Writing
Polishing Class Sessions
Address: DISTT Shopping Complex, SCO 3, Ground Floor, B – Block, Ranjit Avenue, Amritsar, Punjab 143001
Contact Details: +919217241111
Website:https://www.cambridgeinternationalacademy.com/
Touchstone Educationals
A group of self-motivated and dedicated trainers who provide the highest level of guidance. Touchstone is located in Amritsar and aims to motivate students to improve their English communication skills and generate expertise in this field.
For the past nine years, IDP has been enthusiastically rated as the best IELTS Coaching institute. Touchstone has achieved excellence in this vertical by taking a holistic approach to focusing on each candidate. Touchstone strives to provide students with excellent communication skills.
The goal is for students to score in the required bands for IELTS and PTE, to achieve the required TOEFL score, and to improve their spoken English. Touchstone is ranked seventh among the Best IELTS Coaching in Amritsar.
Features:
Touchstone was named a winner of the 2017 Global Achieve Award.
It also includes an IELTS Band Calculator and 32 class campuses spread across 17 cities.
Sessions focused on outcomes
Students have access to an app that can help them improve their band scores in writing, listening, speaking, and listening.
Address: District Shopping Centre, SCO 42, B – Block, Ranjit Avenue, Amritsar, Punjab 143001
Contact Details: +911725000060
Website:https://www.touchstoneedu.com/
IELTS Coaching Amritsar
Trainers at the best IELTS Coaching in Amritsar assess your skills in four ways and cater to your personality development separately. The main goal of this coaching is to help students identify and improve their flaws on their own.
This institute offers both Academic and General Training IELTS training. The best training institute to provide basic training to expert level from students to working people, it continues to meet specific needs. It is proud to be ranked eighth among the best IELTS Coaching in Amritsar.
Features:
Unlimited Batch time
Free Assessment
Best Study Material
Contact Details for IELTS Coaching Amritsar
Address: 17/1,Kennedy Avenue Market, Opp old session court,Albert Road, Amritsar, Punjab 143001
Contact Details: +919855556542
Edge Overseas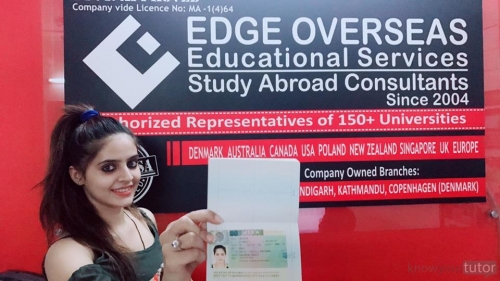 Edge Overseas, one of the best student recruitment companies in Punjab, was founded in 2004. It has branches in Kathmandu, Chandigarh, and Copenhagen (Denmark).
We assist students in pursuing higher education abroad. We provide an excellent board portfolio for a variety of countries, including Denmark, Hungary, the United Kingdom, Germany, and the Netherlands.
Edge Overseas is the most sought-after IELTS training institute because it is a preferred partner of the British High Commission in the United Kingdom. Edge Overseas is ranked ninth among the Best IELTS Coaching Institutes in Amritsar.
Features:
Extensive IELTS Training
Personality Development
Soft skills and spoken English
Address: 243, Maqbool Road, opp Sukh Sagar Hospital, near DC Residence, Amritsar, Punjab 143001
Contact Details: +91 9888540812
Website: https://www.edgeoverseas.com/
PT Education
PT Education, Amritsar, Ranjit Avenue offers CAT, TOEFL, SAT, IELTS, GRE, MAT, Bank PO, IAS, XAT, SNAP, CMAT, CLAT, AILET, SBI PO, IBPS PO, IBPS Clerk, IBPS RRB Coaching in Amritsar and 37 other locations across India.
It is also present in Jaipur, Delhi, Surat, Indore, Bhopal, and 32 other Indian cities. PT Education is best known for its IELTS Coaching and is ranked #10 in Amritsar for IELTS Coaching.
Features:
Printed Notes
Test Series
Doubt Sessions
Periodic Performance Tests
Address: 52, New Dashmesh Avenue, G.T. Road, Opp. Khalsa College (B.Ed), Amritsar, 143001
Website: https://pteducation.com/
Conclusion
In 2007, IELTS tested over a million competitors in a single year, making it the world's most popular English dialect test for advanced education and movement. In general, tests performed on native English speakers must yield 9.0 results 100 per cent of the time. Regardless, this result has never been achieved. If you want to join the best IELTS Coaching in Amritsar, Punjab, you must be well-versed in the coaching institutes.