Under This Post We have Covered:-
Top 10 IELTS Coaching institute in Ahmedabad
List of IELTS Coaching in Ahmedabad with Fees
Best IELTS Coaching in Ahmedabad Review
If you are looking for IELTS Coaching in Ahmedabad to help you prepare for international education, then the right advice is critical. All of the Top IELTS Coaching Institutes in Ahmedabad, along with their contact details, are given here.
The International English Language Testing System (IELTS) is the most widely used high-stakes English language competency test in the world. The British Council is in charge of administering the IELTS exam, which is available in many areas throughout the world.
These are the Best IELTS Coaching in Ahmedabad
Students who pass this test are qualified for admission to the majority of English-speaking countries' educational institutions. This test is necessary for study, work, and migration in the UK, Australia, Canada, New Zealand, and the US.
Madhavi Khandwala British Academy
Madhavi's British Academy stands out as the greatest IELTS Coaching Class in Ahmedabad, having been founded by Madhavi Khandwala in the year 2000. It offers IELTS, PTE, CELPIP, TOEFL, Student Visa Consultant, Spoken English, and Personality Development programmes as well as tutoring.
They provide the best IELTS tutoring in Ahmedabad, allowing you to achieve the highest possible score. The academy centre is located across Ahmedabad, and they also provide satellite IELTS sessions in Ahmedabad.
Their expert trainer focuses on increasing confidence to talk, exhibit abilities, and give presentations in front of a variety of audiences, both official and personal.
So, if you are interested in preparing for the IELTS Exam with the aid of this institute. However, before enrolling in this school, you should be aware of its cost structure, faculty, facilities, demo class, study material, previous year's outcomes, and read reviews.
Facilities:-
Technique oriented approach
Step by step preparation
Limited batch size
Personalized attention
Free grammar coaching
Convenient timings
Contact Details
Address: 216, Shangrila Arcade, Near Shyamal Cross Road, Satellite, Ahmedabad-380015.
Contact no: +91 9825074969
Mail: [email protected]
Website: www.madhavikhandwala.com/
Aspire Square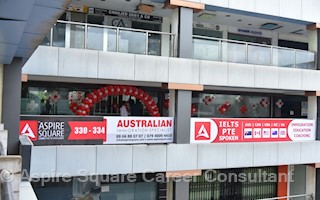 Since 2008, Maulik Raval has established Aspire Square as a pioneer in IELTS coaching in Ahmedabad. It is the premier teaching facility in Ahmedabad for both online and offline PTE and IELTS preparation. In addition, they provide coaching classes in Surat, Vadodara, and V.V. Nagar.
Candidates who are interested in the online style of IELTS tutoring will find it to be one of the most unique possibilities. They are also quite popular for their mentorship sessions. They also offer weekend classes for professionals. and give students the greatest IELTS study resources.
Features:-
They provide Group coaching and Personal coaching 5 days a week for a period of 1 month Plus 1 month.
Weekend batches are also held.
Following the scheduling of the exam date, applicants will be given an extra 15 sessions to answer questions.
Full-length tests and smaller part tests are given out on a weekly basis.
Free material from a reputable source is made available.
Contact Details
Address: Devnandan Mega Mall, 330, 334, Ashram Rd, opp. Sanyas Ashram, Ellisbridge, Ahmedabad, Gujarat 380006
Contact no: 7940094410
Mail: [email protected]
Website: https://aspiresquare.com/
Rao consultants
Rao Consultants is yet another well-known company in Ahmedabad for IELTS Coaching. The company was formally established in 2002. The institute in Ahmedabad provides IELTS, TOEFL, GRE, and GMAT preparation.
They also provide immigration and student visas, as well as counselling. The institute has a huge team of IELTS trainers that are highly educated and experienced.
One distinguishing quality of Rao consultants is the counsel they provide to students in order to help them become motivated. In Ahmedabad, they have three centres.
Facilities:-
They use the most up-to-date teaching approaches and study resources to assist their pupils.
Experienced teaching personnel, the highest standards of facilities, and frequently updated study material ensure that their pupils' preparation is not lacking in any way.
Contact Details
Address: Acumen, Near Old Passport Office, University Road, Gulbai Tekra, Ahmedabad – 380015. India
Contact no: 7573003929
Mail: [email protected]
Website: raoconsultants.com
Nationwide Overseas Education
Mr Raj Shah created Nationwide Overseas Education, a prominent IELTS Coaching Institute in Ahmedabad, in 2010. Begin with the objective of making foreign education attainable for those who want to study abroad, which will help them develop a successful career.
The institution gives the best IELTS Coaching in Ahmedabad, as well as assistance with the visa application process and university selection counselling.
The institute employs a large number of committed and skilled international education educators with extensive expertise. They contribute to the objective of enriching the career life of aspirants seeking international education.
Facilities
Flexible batch timing
Small IELTS batches
Extra practice session
Equipment for each student
Mock tests every Saturday
Thorough IELTS training for the opted module
British council trained IELTS trainer
20+ years experienced IELTS faculty
They offer customized resources to prepare for IELTS such as books, articles, audio files, etc.
Special attention to each student
Regular assessments and updates to improvise your score
IELTS coaching for each section i.e. for Listening, Reading, Writing and Speaking
Sophisticated environment to study for IELTS
Technically sound equipment for listening
Friendly guidance throughout
Contact Details
Address: 206, Swapneel-5, opposite Hanuman Temple, commerce six road, Navrangpura, Ahmedabad, Gujarat 380009
Contact no: 70969 68866
Mail: [email protected]
Website: www.nationwideedu.com/
7th Sky foreign
Mr Nikunj Patel launched 7th Sky Foreign Education with the express purpose of guiding students who want to study overseas. The institution is dedicated to providing students with a one-stop solution for abroad education.
They offer the best IELTS instruction in Ahmedabad in collaboration with British Council and IDP nodal partners. The 7th Sky international centre has two sites in Ahmedabad.
The institute employs a large number of committed and skilled international education educators with extensive expertise. They guided pupils in order for them to achieve a high score on the IELTS test. The support team is always willing to assist and support you.
Features:-
Teaching by experienced faculties.
Equipped Infrastructure.
Well defined Material (4 books).
Library support for Self-practice.
Result oriented Coaching.
Individual attention.
1.5 Hrs. a Lecture.
3 Months Coaching. Weekly 6 days.
Nodal Agent – British Council & IDP
Contact Details
Address: Unit 1, 2 nd floor Raj Tilak Plaza Opp. Mamta Hospital, Bopal, Ahmedabad, Gujarat 380058
Contact no: 9265109852
Mail: [email protected]
Website: www.7thskyedu.com/
Swec visa consultant
Swec visa advisor A group of well-trained and experienced individuals founded the company in Ahmedabad in 2004. They excel at providing IELTS, PTE, Duolingo, and TOFEL tuition from experienced specialists.
This IELTS Coaching in Ahmedabad also provides a variety of services such as counselling, coaching, admission applications, and immigration for students who want to study in countries such as Canada, the United Kingdom, Australia, and others.
In addition, the academy offers online and weekend coaching programmes. They enable you to learn a language quickly and simply. As a result, it is the Best IELTS Coaching Institute in Ahmedabad.
Facilities:-
Highly experienced & Trained faculty
Comprehensive assessment of each candidate
Flexible batch timings
Online exam practice Labs
Weekly free demo sessions
Contact Details
Address: 1052, 3rd Floor, West Field Shopping Complex,, Nr, ST Xaviers School, Ghoddod Road, Surat, Gujarat 395007
Contact no: 8401261234
Mail: [email protected]
Website: www.swecvisaconsultant.com/
Smile Edu
Smile Foreign Education is Ahmedabad's leading abroad education consultancy. They provided a wide range of courses such as IELTS, PTE, and spoken English to candidates seeking to relocate overseas or pursue their education.
They also give a dependable service for overseas student visas as well as permanent resident permits for Canada and Australia.
Smile Foreign Education is an IELTS Coaching Institutes in Ahmedabad that provides a one-stop solution for those applicants who want to study, work, and dwell in another country.
They provide a comfortable study atmosphere that includes a contemporary library with all of the required learning tools for preparing for the IELTS exam.
Features:-
Smile Foreign Education's IELTS training allows students to attend the coaching at a time that is convenient for them.
IELTS coaching sessions in Ahmedabad provide the most up-to-date theoretical and practical understanding of each section-listening, reading, speaking, and writing.
They assist you in practising each format and identifying areas for improvement.
To achieve a high score, one needs take IELTS tutoring in Ahmedabad to grasp the format and each component.
Contact Details
Address: 201, 2nd Floor, ABC-II, St, Xavier's Campus Corner H.L. College Road, Chimanlal Girdharlal Rd, Ahmedabad, Gujarat 380009
Contact no: 9033997878
Mail: [email protected]
Website: www.smiledu.in
Yuranus education
Yuranus Education is one of Ahmedabad's Leading and Trusted IELTS Coaching Institutes. Its primary goal is to deliver high-quality education to its pupils.
This IELTS Coaching in Ahmedabad is well-known for producing great IELTS results in recent years. Furthermore, the institute assists students in completing the application form and uploading all essential papers.
This institute's faculty has extensive teaching expertise. It is a one-stop-shop for those students interested in furthering their education overseas.
Cutting-Edge IELTS Coaching-

They have the ability to provide students with high-end IELTS Coaching since they are equipped with cutting-edge infrastructure, libraries, and the most latest study materials.

Flexible Batch Timing

– Batch scheduling flexibility, incentive programmes, and group projects are all accessible for study. They constantly strive to make our training fresh and entertaining through discussions, special batches, additional practical timing, and regular examinations.

Experienced Professionals

– With years of expertise in providing IELTS instruction, our highly skilled specialists use their skills to provide the finest teaching to students. Furthermore, they stay up to speed on the most recent IELTS course structure, study material, and test papers that may be used to help pupils.

Free Study Material

– They also give free material from a trusted site for students to practise at home.

Satisfaction, Guaranty

– They work with each student to help them set a goal of earning a band score of 6.5 or above. As a popular IELTS coaching class, Yuranus education gives equal priority and attention to each student.

Best Environment for Study

– They provide a kind and pleasant environment that boosts students' confidence from the first day of class. Their main goal is to remove the student's fear of the English language and transform it into an attractive topic to learn and master.
Contact Details
Address: 201, Maulik Arcade Above Karnavati Pagarkha Bazaar, Mansi Cross Roads, Vastrapur, Ahmedabad, Gujarat 380015
Contact no: 87585 25252
Mail: [email protected]
Website: yuranuseducation.com/
Visa zone Education & Immigration Services Pvt Ltd
The Visa Zone Education & Immigration Services Pvt Ltd has a track record of excellence dating back ten years. They will assess your potential and talents in order to give you advice that is tailored to your objectives and assures lucrative prospects. They provide skilled IELTS | PTE | TOEFL | CELPIP | UKVI IELTS | Life Skill A1&B instruction.
Their instructors are IDP, British Council, ETS, and Pearson certified trainers. They are IDP and British Council node partners. They restrict the number of pupils in a batch to 10 to 12 kids, and we provide each student with individual attention.
They give students an individual user ID and password for their online programme, allowing them to prepare in accordance with the Computer Delivered Exam. The batches will last 2 months, 3 months, and the costs will be good for a year. There are Fast Track batches available.
Facilities:-
Each registered student receives the most up-to-date learning materials.
They feature a large in-house reference library with all of the most up-to-date information and resources.
They provide complimentary high-quality headphones for improved listening practise.
Every Saturday, they hold a mock test.
They provide one-on-one problem-solving sessions with instructors.
They provide particular grammar workshops to help with language clarity and communication abilities.
They offer daily grammar and vocabulary advice.
They do group discussions and debates to improve their speaking services.
They provide a specific two-week training period prior to the exam date, and the majority of their students get the needed bands in IELTS for Academic and General examinations.
Address: 502 Addor Aspire University to Panjarapole Road Opp. Gulbai Tekara BRTS Bus Stand, nr. Jhanvee Restaurant, Ahmedabad, Gujarat 380015
Phone: 079 4019 2525
PT Education
PT Education, Ahmedabad, Usmanpura offers CAT, TOEFL, SAT, IELTS, GRE, MAT, Bank PO, IAS, XAT, SNAP, CMAT, CLAT, AILET, SBI PO, IBPS PO, IBPS Clerk, IBPS RRB Coaching in Ahmedabad and across 37 centres in India.
Facilities:-
Printed Notes
Test Series
Doubt Sessions
Periodic Performance Tests
Address: 303 Neelkanth II, Near C U Shah College, Navjeevan Press Road, near Income Tax Cross Road, Gujarat 380014
Mobile – +91-97555-99515
Conclusion
IELTS provides them with an admission road as well as self-confidence that the student would do well in the university's rigorous skills. Many students prefer self-learning for IELTS over attending training classes since IELTS is easier than other competitive tests such as GMAT, GRE, and others.
Although IELTS may be passed without training, it is preferable to have professional coaching, practise exams, and competition to improve one's score.
Different training preparation approaches are used, and some have been recognised for their finest training strategy. Select the finest IELTS training in Ahmedabad.