Under this article we have covered:-
Lists of Best CLAT Coaching in Noida
Top 10 CLAT Coaching in Noida
Best CLAT Coaching in Noida With Fees
CLAT has the same standing among law exams as IIT-JEE has among engineering exams. The nation's 21 law schools take part in administering this prestigious law exam, though they do so one at a time. Furthermore, law students can take the CLAT after completing their 12th-grade exams or the Higher Secondary Examination
After passing this competitive exam, successful students are able to apply for admission to integrated undergraduate law programmes. Similarly, post-graduate students can take CLAT to secure seats for Master of Laws programmes (L.L.M.).
Furthermore, in order to take the CLAT, aspirants must meet the eligibility requirements. The criteria of eligibility are determined by the candidates' choices. Candidates' eligibility is determined by whether they choose to study law at the undergraduate or postgraduate levels. Students must have a certificate of Intermediate/Senior Secondary studies (10+2) to pursue undergraduate studies.
Otherwise, they must have an equivalent certification from a recognised board. Undergraduate CLAT candidates must have an aggregate score of at least 45 per cent (40 per cent for SC and ST candidates). Finally, there is no maximum age for taking the test.
Similarly, CLAT candidates interested in postgraduate studies should have an LL. B/B. L. degree. Furthermore, aspirants may hold an equivalent degree from a UGC-recognized university. Students must keep in mind that they must have at least a 55 per cent overall grade point average (50 per cent marks in the case of the candidates belonging to the SC and ST categories).
Candidates who pass the required degree exam via compartment/supplementary and repeated attempts are also eligible to take the CLAT.
These are the Best CLAT Coaching in Noida
Career Launcher
Career Launcher, a name to be reckoned with in the field of CLAT coaching institutes in Noida, is the primary aggregator of reputed faculty for coaching law exams and CLAT aspirants. The institute has been guided by a group of highly qualified experts, Including IIT and IIM alumni.
With a desire to excel in the field of education, Career Launcher has focused on transforming the careers and lives of thousands of students over the course of its twenty-plus glorious years of existence.
This CLAT coaching institute has grown and established itself as a renowned mark of excellence in the field of education over the past 21 summers. This CLAT coaching institute has a network of nearly 200 test preparation locations in over 100 cities throughout the country.
It has over 50,700 students registered with them, which is an incredible number. Career Launcher offers high-quality education to all of its students in the areas of vocational training, recruitment and training, and management services.
Features
Extensive experience in preparing students for law exams, particularly the CLAT
The ability of OLC to provide 50+ live interactive classes of two hours each, as well as more than 150 video lectures on Mathematics, Legal Reasoning, Logical Reasoning, and English.
The comprehensive Residential Coaching Program includes personality development, classroom sessions, case studies, and other activities.
Address: 1st Floor, C - 30/3, opp. TOWER-7, Sector 62, Noida, Uttar Pradesh 201301
Phone: 0120 431 2136
IMS CLAT Coaching in Noida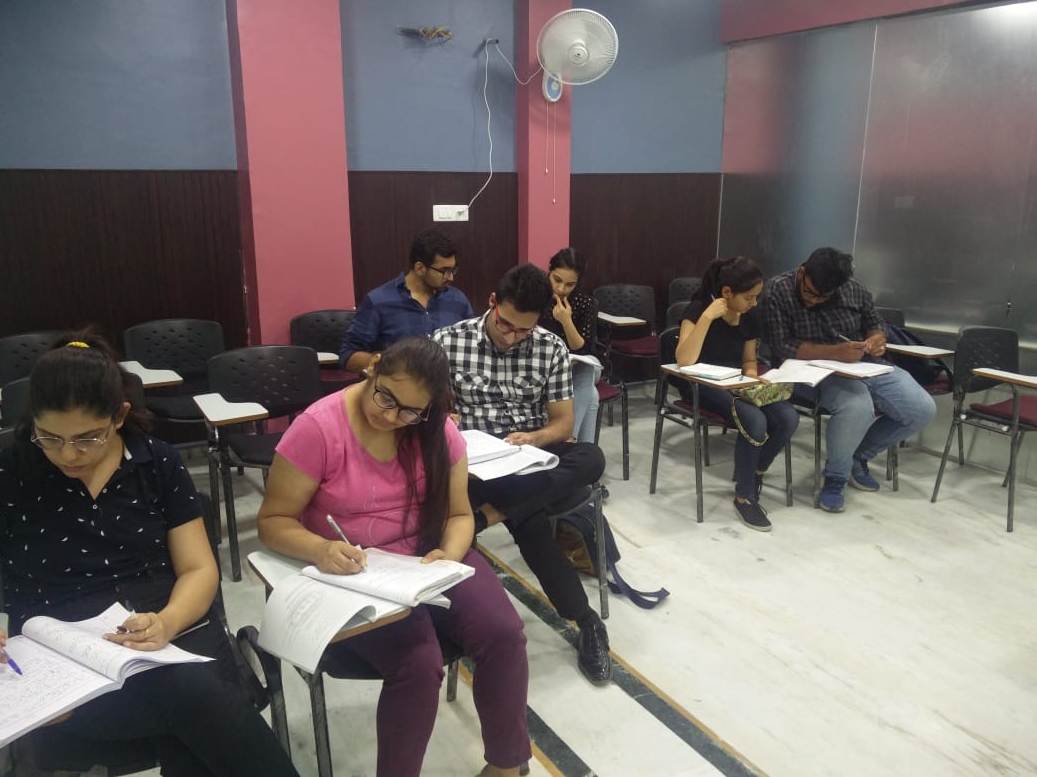 As the coaching institute's motto is "....to be with the students, to motivate, mentor, accompany, and guide them in their journey of education until they cross the ultimate goal of their coveted entrance examination," IMS facilitates achievement and nurtures law aspirants' aspirations.
Furthermore, this CLAT coaching institute in Noida specialises in providing accurate and up-to-date information about your chosen field.
With over 40 years of experience in the field, IMS has carved a niche in the hearts and minds of lakhs of students through its interconnected institutes located in 90+ locations across 44 cities.
This CLAT coaching institute in Noida boasts a family of over 1,000 people who work together with it. Students from this CLAT coaching institute have gone on to hold top leadership positions at some of the world's best law firms.
Features
More than 120 hours of classroom instruction
Students can access 150+ and more than 50 videos related to various legal concepts, as well as books on law that serve as the primary reference material for CLAT preparation.
Practice with nearly 1,000 current-events questions every two weeks.
More than 60 CLAT mock exams and other law-related entrance exams
Address: A-8B IMS Campus Building, Sector 62, Noida, Uttar Pradesh 201301
Phone: 0120 479 8800
T.I.M.E. Coaching Noida
T.I.M.E. is India's leading test-preparatory institute, with a presence throughout the country and headquarters in Hyderabad. This is the city where the CLAT coaching institute was founded in 1992. T.I.M.E. now operates from 246 centres located in 119 cities and towns across the country.
More than 40 IIM/IIT alumni have volunteered to serve on the core team of this coaching institute. The authorities at this CLAT coaching institute in Noida offer a comprehensive training programme for all-important Law entrance exams.
The programme was designed by IIT/NLU/IIM graduates. Furthermore, the programme covers all aspects of these exams, particularly CLAT. The authorities of this CLAT coaching institute in Noida regularly update the course/program to ensure that students successfully face any changes in the pattern.

Features
A total of fifty Mock tests for practise
A thorough examination of students' performance in order to determine their national rankings
Topics are delivered by the most knowledgeable faculty—alumni of IIMs, NLUs, and so on.
Students have access to their Student Home Page (SHP), which serves as a repository for online study materials.
The most recent revision of study material was created with the nature of various law entrance exams in mind.
Address: MC Complex, No.320, New Ashok Nagar Rd, above Central Bank Of India, Naya Bans, Naya Bans Village, Sector 15, Noida, Uttar Pradesh 201301
Phone: 0120 457 2554
CLAT Possible
CLAT Possible is another CLAT coaching institute in Noida whose reputation is well-known. CLAT Possible, through its regular classroom courses, correspondence study programmes, conducting online classes, mock tests at an All-India level, housing a highly-regarded faculty, and putting on a stellar show with its results, truly makes it possible for ordinary students to secure highly-regarded seats in the National Law Universities and other Law schools of the nation, by clearing CLAT.
And, given the illustrious mentors on the coaching institute's faculty, why shouldn't CLAT Possible be a favourite among law students? Dr Surabhi Sahai, Sanjay Singh, Amit Goyal, Shyam Saraf, and Rishad Mehrotra, among many others, raise the bar set by the coaching institute's previous alumni and attract a large number of students.
Features:-
Every day, this CLAT coaching institute in Noida hosts the Intensive Results Delivering Schedule for students.
Every week, customised mocks and workshops are held.
Students have access to "MyZone," India's leading online support platform.
Mocks, theory, and practise are all part of the comprehensive study material.
Includes all of the offerings of TS Summons Plus, a distance learning study programme that provides law students with a complete one-stop solution.
Address: 1st floor, K4 Ocean Heights Sector 18, Noida, Uttar Pradesh 201301
Phone: 099712 18959
Pinnacle Learning Destination
Pinnacle Learning Destination, also known as Pinnacle Institute, was founded in 2010 as a result of students' observations of the educational system's requirements for competitive exam preparation.
This CLAT coaching institute in Noida attracts students by offering rigorous sessions of preparation for various competitive exams such as NDA, CTET, Bank PO, and CLAT.
The coaching institute has earned a reputation for employing specialised faculty for all examinations, including CLAT and other law exams. Pinnacle Learning Destination has branches in cities such as Noida, Ambala, Delhi, Allahabad, Varanasi, Kanpur, Lucknow, and many more. The Noida coaching institute has produced 5000 selections for various examinations.
Features:-
Faculty with Experience and Commitment
Working candidates can enrol in early morning and late evening batches.
Crash courses for a specific exam are available separately.
Fees for Nominal Services
Before the end of the course, there will be a rigorous mock exam.
Address: Jayaram complex 1st Floor, near Rajkiya Inter College, Sector 22, Noida, Uttar Pradesh 201301
Phone: 099538 42445
KD Campus
Founded in loving memory of Late Sri K D Singh, father of the Institute's Director and Founder, Ms Neetu Singh, the Institute provides coaching for entrance exams for various competitions such as SSC, Bank PO, AirForce, State Police Officer Exams, CLAT, LLB Entrance Exams.
K D Campus is more than just a coaching institute; it also focuses on the students' overall development. To achieve this goal, the CLAT coaching institute provides expert guidance as well as superior study materials from its own publishing house.
In terms of LLB entrance exams, other law exams, and CLAT, this coaching institute in Noida aspires to be the best coaching centre in India.
Features:-
The coaching institute hosts its Test Series, which is accessible via an Android app.
CLAT and other law exam tutors who are highly qualified and well-known
Comprehensive and flawless study material to ensure a thorough understanding of CLAT concepts.
Special math and English studies are provided at no cost in order to provide a more effective grasp of the concepts.
Short tricks to provide creativity and wit when solving problems, particularly MCQs
Address: Gurubaksh Plaza, Jagat Farm, Greater Noida, Uttar Pradesh 201308
Mobile 1 : +91 95551 08888
Mobile 2 : +91 95552 08888
E-mail: [email protected]
Career Leaders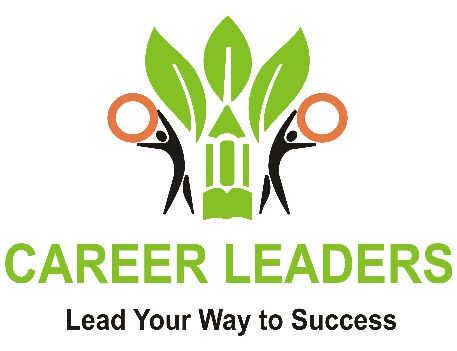 Career Leaders is a well-known institution that prepares students for a variety of legal exams, including the CLAT. The CLAT coaching institute even has its own faculty, resulting in a completely reserved setup.
This institute is conveniently located in Laxmi Nagar, Delhi, and is easily accessible from Noida. The Career Leaders faculty serves students from all over India and helps them qualify for competitions in an efficient and effective manner.
This coaching institute was founded by some of the most prominent educational figures. Furthermore, this CLAT coaching institute has a combined experience of many years in this field. This institute has risen to prominence in the field of Entrance Exam preparation over the last several years.
Features:-
The coaching is complemented by a highly experienced and skilled faculty.
Individual attention is given to students in order to identify and correct their flaws.
Modern interaction tools have been installed in the classrooms to improve two-way communication between students and teachers.
Cumulative teaching principles and their integration with study programmes
The CLAT coaching institute employs Adaptive Teaching methods.
Delhi Institute of Law
Delhi Institute of Law is a CLAT coaching institute in Delhi that helps students prepare for law exams. Despite its location in Delhi, the institute is easily accessible to residents of Noida. This CLAT coaching institute offers some of the best classes for aspiring judges.
Recently, there has been an increase in the number of students pursuing a career in law. As a result, the Delhi Institute of Law was established at an appropriate time. This CLAT coaching institute is poised to make significant strides in the competitive world of law entrance exams by ushering in a new era.
The CLAT coaching institute is the only one in North India that offers classes for Subordinate and Superior Judicial Exam preparation. The institute encourages beginners who want to study law to take advantage of CLAT's competitive coursework. As a result, the Delhi Institute of Law promises to maintain its success.
Features:-
This coaching institute has an extremely knowledgeable faculty.
Fee structure that is cost-effective
Rapid resolution of doubts in real time
Cost-free study resources and material Teaching methodology that greatly facilitates student-teacher interaction
Address: U-59, School Block Gate no 2, Metro Station, Main Mother Dairy Rd, Laxmi Nagar, Shakarpur, New Delhi, Delhi 110092
Phone: 085277 59401
Tara Institute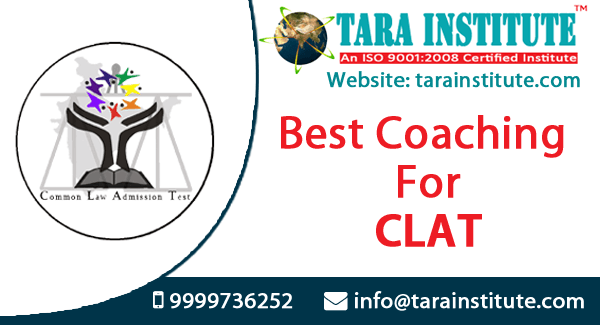 Tara Institute, one of India's leading academic institutions, provides a unique educational-cum-friendly environment that prepares students to lead and make a difference in the world of law.
Tara Institute is a family of true and honest students, teachers, professionals, and alumni dedicated to serving the yearning mind in order to achieve success. This CLAT coaching institute in Delhi, easily accessible from Noida, has now become synonymous with success in coaching and education.
The Institute prepares students for exams such as IBPS Bank PO, SBI PO, Bank Clerk, SSC CGL/UDC, SSC CHSL/DEO/LDC, MTS, and CLAT. Tara Institute has a strong desire to make them competitive in various competitive entrance exams in over ten states.
Furthermore, this CLAT coaching institute operates nearly 40 study centres across the country. Within its classroom programmes, the institute administers regular tests, quizzes, and group discussions.
Similarly, this CLAT coaching institute offers competent online test series and study material to students in order to help them improve their preparation.
Features:-
The CLAT coaching centre provides a free online test series.
It offers regular classes to students.
The institute also administers tests and quizzes on a regular basis.
Teachers who are well-versed and skilled
CLAT aspirants can access free study materials at the institute.
Address: BS Complex, Naya Bans, Noida Sector 15, Noida - 201301, Below Central Bank Of India
Website- www.tara.institute.com
Success Mantra
Every year, Success Mantra trains thousands of people for communication skills and aptitude tests. This CLAT coaching institute prepares students for admission to prestigious colleges across India. When it comes to results, Success Mantra has one of the highest success rates in the exam preparation industry, particularly for CLAT.
This coaching institute in Noida's guiding programmes is unique in that they promise the best results possible. These outcomes are dependent on the students' fundamental preparation and ability to work hard.
Success Mantra's illustrious faculty ensures that every student has access to a coach, giving him or her the opportunity to ignite his or her mind.
As a result, the faculty shows him/her the path to success. In this endeavour, the institute, which also serves as a CLAT coaching institute, has been somewhat successful in its mission. This is reflected in the choices.
Features:-
The extraordinary ability to produce excellent results
This CLAT coaching centre has the best faculty for all of your law exams.
Students have access to extensive study resources such as the Prep Test library.
An in-depth analysis of students' performance in mock tests is carried out.
Remedial recommendations to strengthen the weak areas of your CLAT and other law exam preparation
Address: District Center, Laxmi Deep Building, 2nd Floor, 207 A, Laxmi Nagar, Delhi, 110092
Phone: 098115 60490
Conclusion
Noida competes zealously with any of India's modern metropolises because it is home to an intelligent blend of the fervour of a metropolis and the tranquillity of a small town.
The city has well-planned residential areas, highways for lightning-fast automobile mobility, wide areas for nightlife and concerts of nocturnal party animals, lip-smacking street food delicacies, and a variety of other things to make your life worth living wildly.
Because the city is so lively and convenient, it looks after its citizens and everyone who lives there. Whether they are Noida residents or visitors, the city nurtures everyone.
Students are the fondest of it. This is why Noida has a large number of coaching institutes. These coaching institutes guide students through a variety of streams, disciplines within these streams, various national and international exams, scholarship exams, and so on.
The city has several reputable coaching institutes for law, which is one of the most sought-after fields to pursue a career in. As a result, there are numerous reputable AILET, AIBE, and CLAT coaching institutes in Noida.