You've come to the right site if you're looking for CLAT Coaching in Indore to help you prepare for the exam. All of Indore's Top CLAT Coaching Institutes are listed below, along with contact information and coaching addresses. 
The Common Law Admission Test (CLAT) was established in 2008. It's a test that applicants take to get admitted to National Law Universities.
CLAT is a national law school entrance exam administered by 22 law schools across the country. English Language, Mathematics, Logical Reasoning, General Knowledge and Current Affairs, and Legal Aptitude are the disciplines tested.
CLAT's exam pattern has changed as of 2020. There will be 150 objective-type questions on the 150-mark question paper. For the Undergraduate Exam (BA LLB) and the Postgraduate Exam (100 objective and 2 subjective questions) (LLM). Each objective question (both UG and PG) will be worth one mark, and the test must be finished in 120 minutes. For each incorrect response, 0.25 points are to be deducted.
These are the Best CLAT Coaching in Indore
Vidhigya
Vidhigya CLAT Tutorials, a brainchild of the NLU alumni team, offers CLAT coaching in Indore. Vidhigya has been producing astonishingly consistent outcomes over the past 5 years with the best faculty team, a welcoming learning atmosphere, and effective teaching pedagogy. As a result,
Vidhigya is the 'undisputed leader' in Indore when it comes to law entrance exam preparation.
Features:
They equip applicants with the highest teaching standards, coaching, and classroom instruction.
They also teach not only legal acumen, but also time management, which appears to be crucial in the CLAT exam.
Students have access to an online classroom, a test series, a classroom, a doubt session, and a normal test.
Address: 214 Tulsi Tower 2nd Floor, Gita Bhawan Rd, Indore, Madhya Pradesh 452001
Contact no: 90397 99000
Mail: [email protected]
Website: www.vidhigya.in/
Legal edge
LegalEdge Tutorials was founded in Bhopal on July 4, 2011. In 2018, LegalEdge established CLAT Coaching locations in Indore to provide CLAT Classes Indore. Not only in Indore, but across the country, LegalEdge Tutorials have become synonymous with CLAT preparation.
LegalEdge has a faculty that is both brilliant and experienced. As a result, they not only aided you academically but also broadened your horizons.
Through quality pedagogical teaching, a competitive setting, regular testing, and analysis, LegalEdge provides comprehensive exam preparation. Legaledge presently has offices in Bhopal, Indore, Prayagraj, Jaipur, Kanpur Raipur, and Lucknow, among other cities in India.
Features:
Exam-oriented Top-notch Study Material, such as the Current Affairs magazine, is also available from LegalEdge.
On a regular basis, LegalEdge hosts Doubt Clearing Sessions.
A maximum batch size of 40 students is recommended.
Personal Interview/Group Discussion/Written Ability Test preparation.
Tracking attendance and communicating with parents on a regular basis.
Students can take live online classes. This is one of Indore's best CLAT coaching institutions.
A distance learning programme is available.
Full-Length Mocks Examinations, Evaluation Tests, Sectional and Speed Tests, Topic-Level Tests, and Current Affairs Tests are among the several types of tests given throughout the curriculum.
Address: 405-406, Tulsi Tower at, Gita Bhawan Rd, Indore, Madhya Pradesh 452001
Contact no: 9589613810
Mail: [email protected]
Website: https://legaledge.in/
TIME CLAT Institute
TIME institution was founded in Hyderabad in 1992. TIME offers CLAT coaching in Indore, as well as Bank, Gate, NEET, GRE, IIT, CAT, SSC, and CRT preparation. Students at time institutes are taught by a very talented and experienced teacher.
TIME is also well-known in Indore for having the top CLAT Coaching Institute. TIME consistently provides outstanding outcomes throughout the year.
Features:
TIME institution offers students the option of taking online coaching lessons and taking online tests, allowing them to study at their leisure.
TIME also gives students with up-to-date study materials, an online exam series, a classroom programme, and a doubt session.
Address: 21, DM Tower, 501, 5th floor, 1, Race Course Rd, Near Janjeerwala Square, Indore, Madhya Pradesh 452001
Contact no: 9752095950,9752095951
Mail: [email protected]
Website: time4education.com
Career Launcher
Career Launcher Indore began operations in January 2010 and provides the best CLAT coaching in Indore, as well as IIM-IPM and CLAT sessions.
It has been focusing on moulding the lives and careers of many students since 1995 and is led by a team of highly trained professionals, including IIT-IIM alumni, with a commitment to quality in education. As a result, the CL brand has expanded and become a well-known name in the education industry.
CL Indore's team creates tests like the CAT and CLAT. In recent years, CL Indore has excelled in a variety of entrance exams. More than 1000 students were accepted into India's top management and law schools. Career Launcher is also recognized as Indore's best CLAT teaching center.
Features:
Career Launcher also includes the following features to enhance your learning experience:
Printed Notes
Test Series
Classrooms
Counseling Sessions
online classes
test series to students.
Address: 2nd Floor, The Heritage Building Mahatma Gandhi Rd Near Indraprastha Square, Indore, Madhya Pradesh 452003
Contact no: 9630038080, 7314049334
Mail: [email protected]
Website: www.careerlauncher.com/
IMS CLAT Indore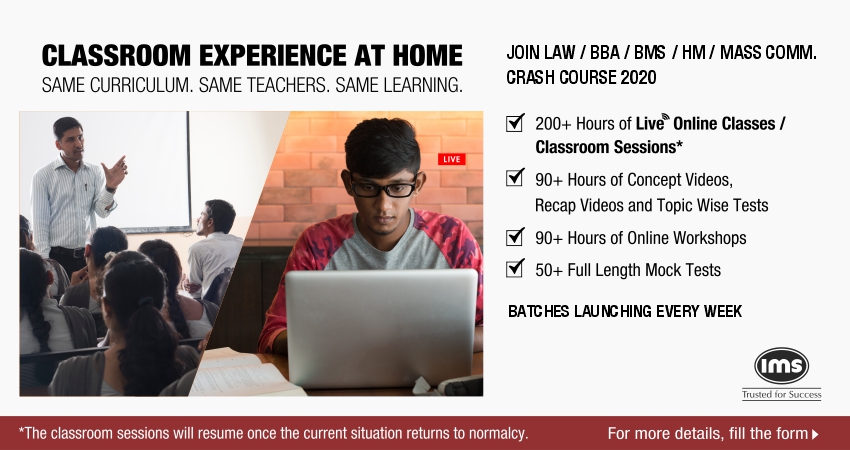 In Indore, IMS is the leading Management Entrance training center. With over 40 years of expertise, with the goal of mentoring, motivating, guiding, and accompanying students on their educational journey.
The institute was placed 4th in the education sector and 44th overall among India's Top 50 Most Trusted Service Brands. The IMS facility is now available in over 90 locations across India.
And providing great CAT, GMAT, GRE, SAT, BBA, and IIM coaching classes. The institute is regarded as one of Indore's best CLAT coaching centers.
Features:
The institute also offers online classes, personal training, small groups to individualized counselling, and classes to clear doubts, among other services.
IMS Indore also has a fully equipped center, learning classrooms, computer labs, and a library with a selection of suggested books.
Address: 2nd Floor, Commerce House, Zanjeerwala Square, Race Course Road, Indore, Madhya Pradesh 452001
Contact no: 07314986592, 8291966988
Mail: [email protected]
Website: imsindia.com
Law Prep Tutorial
Law Prep Tutorial offers CLAT preparation in Indore and 12 other cities across India. It's also in Lucknow, Dehradun, Hyderabad, Chennai, Jaipur, and seven other Indian towns. Law Prep Tutorial is one of the most well-known CLAT prep schools.
Features:
The institute provides students with the most comprehensive study package for a variety of legal entrance exams.
At Law Prep Indore provides the most experienced and well skilled academic professionals to coach students in achieving their career goals and providing a welcoming environment in which to prepare for law.
Furthermore, the faculty is always available to answer students' questions at any time.
Law Prep Tutorial additionally offers Printed Notes, Test Series, Distance Learning programmes, Doubt Sessions, Online Lectures, Classrooms, Counseling Sessions, and Entrance Tests for a better coaching experience.
Address: 106, Mishika Tower, Sapna Sangeeta Road, Opposite Inox, Old Agarwal Nagar, Indore, Madhya Pradesh 452001
Contact no: 9926550555
Mail: [email protected]
Website: https://lawpreptutorial.com/
Topper law classes
Mrs. Suchitra Dubey launched Toppers Law Classes in 2006 with the goal of creating a standard institution to attain success in CLAT test preparation in the country.
Law Prep Tutorial now offers the best CLAT coaching in Indore. CLAT classes are taught at one of Indore's most specialized institutes.
Features:
For coaching lessons, Toppers Law Classes has an experienced staff.
Their faculty's goal is to not only present students with a roadmap to effective learning, but also to assess them as members of our inspiring company on their path to success.
Address: 32, 2, Rd Number 2, nearby Libra Law Institute, New Palasia, Indore, Madhya Pradesh 452001
Contact no: 94259 02581
Mail: [email protected]
First Attempt Success Tutorial
In 2006, First Attempt Success Tutorial opened its doors in Kanchan Bagh, Indore, with the goal of supporting students in passing professional, competitive, and scholastic exams on their first attempt.
In addition to CLAT training, it also offers CA training in Indore. Students who are unable to attend classes at their center might take advantage of satellite classes.
Features:
For a better coaching experience, First Attempt Success Tutorial also provides
Printed Notes,
Test Series,
Distance Learning Program,
Doubt Sessions,
Online Lectures,
Classrooms,
Counselling Sessions,
Entrance Tests.
Address: M1, M2, Trade Center, South Tukoganj, Kanchanbagh Indore – M.P.
Contact no: 9584510000, 9522564050
Website: www.fast.edu.in/
Elan Education
Elan Education was founded in February 2015 with the goal of providing high-quality law test preparation, shaping the attitudes and aptitudes of young law students, and instilling confidence in every law exam.
Elan Education is the fastest-growing and most-respected institute for CLAT and other legal exams preparation. In Indore, Elan Education is well-known for preparing students for law entrance exams. In Indore, they also help students prepare for other competitive legal entrance exams.
Features:
They assume full responsibility for academic advancement and encourage pupils to do their best in order to pass competitive exams.
They also offer printed notes, test series, online lectures, classrooms, and counselling sessions for a better coaching experience. They also offer a special doubt-clearing session for pupils who are struggling.
Address: 52, Lalaram Nagar, Near St. Paul H.S. School., Indore, Madhya Pradesh 452001
Contact no: 98262 29779
Mail: [email protected]
Website: http://elanclat.in/
Mathematica complete education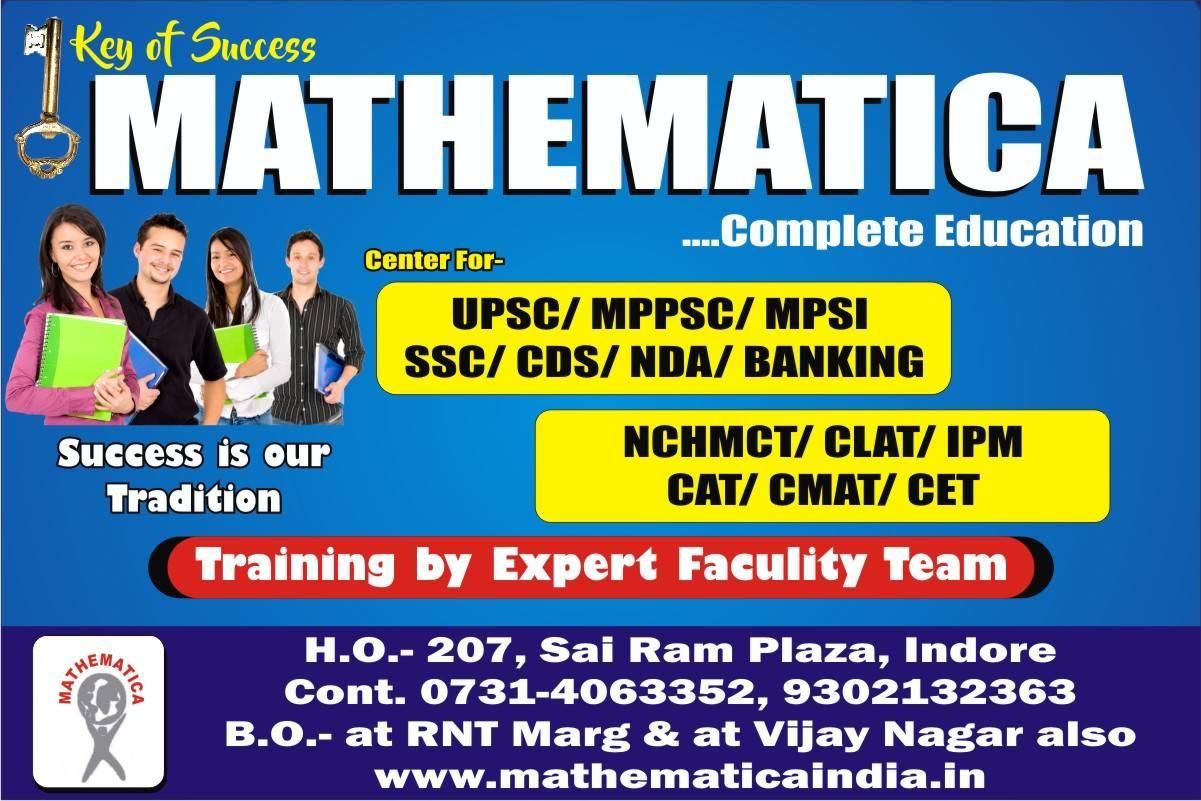 Dharmendra Kumar Gupta launched the Mathematica in 2005 with the goal of providing an invaluable platform for students aspiring to great careers in the fields of Civil Services and Law.
Mathematica is also renowned in Indore as the top Clat institute. And it has done so in a relatively short period of time.
Mathematica's Unrivaled Classroom Delivery ensures that every topic is fully understood.
Mathematica also offers regular doubt-clearing sessions for students' benefit.
Mathematica has a highly qualified faculty that keeps students up to date on competitive examination trends and patterns.
Address: 307, Sai Ram Plaza Opp. Mata Gujri College, near Rajiv Gandhi square, Bhawarkuan AB Road Indore M.P.
Contact no: 0731-4063352, 9302132363
Mail: [email protected]
Website: http://mathematicaindia.in/
Conclusion
With the significant increase in the number of students taking CLAT, the level of competition has increased as well. Coaching can assist you in better preparing for a range of competitive exams.
It provides step-by-step instructions as well as a strategy for passing such demanding exams. There are various CLAT coaching centers in Indore. It's natural to feel overwhelmed when deciding on the finest option.
Madhya Pradesh is India's largest state, and Indore is its capital. It is also known as the intellectual capital of the state because it is home to some of the country's greatest educational institutions, including IIT and IIM. Indore's Institution of Law is a famous law school in the city.