For CLAT subject tutoring, get a list of law coaching institutes and classes in Amritsar.
Get the greatest advice, training, high-quality study materials, low prices, course information, and institute details. Enroll now for Amritsar's top law subject coaching.
These are the Best CLAT Coaching in Amritsar
Career Launcher CLAT Amritsar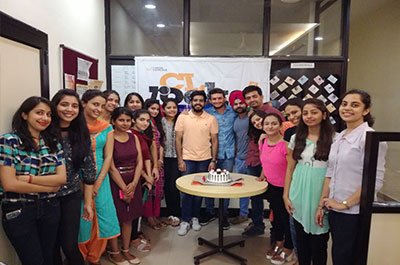 Career Launcher focuses on a variety of educational segments for students of all ages. It has been focusing on molding the lives and careers of many students since 1995 and is led by a team of highly trained professionals, including IIT-IIM alumni, with a commitment to quality education.
The Career Launcher brand has grown and evolved over the years, becoming a well-known name in the education industry. They help people reach their full potential and accomplish their dreams at Career Launcher.'
This is the company's primary philosophy, which is based on academic brilliance, technological innovation, and years of subject expertise.
Features:
Printed Notes
Test Series
Distance Learning Program
Doubt Sessions
Periodic Performance Tests
Online Lectures
Classrooms > 5
Counselling
E-learning Material
Library
Question Banks
Address: 96- C, First floor, Maqbool Road, Near, Rattan Singh Chowk, Amritsar, Punjab 143001
Phone: 098881 25354
PT Education
It's also found in 32 additional Indian cities, including Jaipur, Delhi, Surat, Indore, and Bhopal. CLAT Coaching is PT Education's most well-known service, and it is ranked #2 in Amritsar for CLAT Coaching.
Features:
Printed Notes
Test Series
Doubt Sessions
Periodic Performance Tests
Address: 52, New Dashmesh Avenue, G.T. Road, Opposite Khalsa College (B.Ed), Amritsar, Punjab 143001, India
Phone: (0183) 3222957
Prof. Sodhi's Academy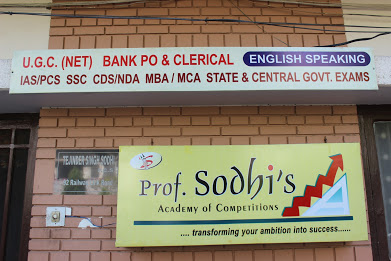 In 1987, Prof. Sodhi's Academy of Competitions began offering tutoring for competitive exams. It was founded with the primary purpose of providing 'Effective Coaching.' This seeks to prepare applicants competing in various contests according to the competition's requirements.
The school has used the technique of Effective Commitment, Effective Communication, Effective Practice Sessions, and Effective Evaluation to justify this goal of leading YOU, the aspirants, to scale the 'Everest of Success.'
Features:
Making commitments with aspirants that are free of illusions.
Maintaining complete transparency in the performance of the promise.
'Effective Coaching' is ensured. (A mix of high-quality and low-cost coaching)
Continuing the tradition of training but not enslaving hopefuls.
Emphasis is placed on 'Clearing of Fundamentals' and 'Confidence Building,' with the goal of assuring conceptual clarity from the ground up through practice assignments, which are then followed by confidence-inducing doubt-clearing sessions through extensive discussion.
Exclusive counselling sessions aimed at applicants' personality development, assisting them in preparing commandingly for group talks and interviews.
Exam fear and other similar complexes are being eradicated from the minds of applicants through the use of motivational techniques in separate counselling sessions.
Maintaining a connection with modern communication technology by offering "ON-LINE" LECTURES and practicing "ON-LINE MOCK Examinations" with the purpose of universalizing good coaching and improving the confidence of candidates wishing to take on-line tests.
Address: 92, Railway Link Rd, INA Colony, Amritsar, Punjab 143001
Phone:9417962656
Email: [email protected]
PBI Institute
PBI Institute, which is led by a team of professionals and bankers, specializes in tutoring for banking tests. The Institute was founded in 2008 and has since established a solid reputation.
Today, PBI Institute is ranked No. 1 in the country and is known as one of the best educational Institutes (Coaching Centres) imparting quality education enriched training classes to students in various fields such as CAT, MAT, CMAT, CLAT, and other state government exams, with its Head Office in Jalandhar.
It also invites applications for its Franchisee in Punjab and other states across India.
Features:
This university is regarded as one of the most well-known in the field of higher education.
All pupils have complete flexibility to explore their creative abilities here.
Address: 63, Lawrence Road, Shastri Nagar, White Avenue, Amritsar, Punjab 143001
Website: http://www.pbiinstitute.com/amritsar.php
Veron Institute
Veron Institute is the best CLAT coaching institute in Amritsar, with a track record of successful students who have graduated from Veron's CLAT Entrance Coaching program.
In their CLAT law entrance classes, Veron brings you expert faculty members who offer their real-world, on-the-ground experience of the domain. They also have a network of highly skilled and knowledgeable specialists that offer frequent counseling and support to their students and assist them with CLAT preparation.
CLAT is more than just an entrance exam; it's a dream for thousands of aspiring lawyers, and Veron offers the best CLAT programs with its powerful learning and education methodology.
If they are referring to the CLAT Exam Pattern, Question Set, or Preparation Model, students should be aware that there is no pre-determined matrix of question levels for the CLAT Entrance Exam. As a result, students must prepare as all-rounders in all aspects of the curriculum.
Features:
Faculty members who have worked in the same sector for a long time
Mock Tests and current events are practiced on a daily basis.
CLAT Entrance Exam Preparation Free Study Material
CLAT Coaching offers unlimited test series practice.
Weekly performance evaluations and one-on-one coaching for improved results
Serving the best outcomes in CLAT coaching in Amritsar for the past ten years
CLAT students can choose from a variety of course kinds.
In CLAT classes, the programmes are organized to focus on small details.
Deliver problem-solving techniques and strive for excellence in all methods.
Address: 2nd floor, Near State bank of India,kachehri chowk, Rani Ka Bagh, Amritsar Cantonment, Amritsar, Punjab 143001
Phone: 095695 11656
Dashmesh Academy
Since its beginning in 1996, DASHMESH ACADEMY has progressed via its Quality Education, Training, and Coaching of students for various courses
Many students who have achieved success via their Institute, including state toppers and Rankers, are now proud of their relationship with them.
The institute's mission is to provide education with a broader scope to people at an affordable cost. Due to regional and financial concerns, they have decided to cover a wide range of topics.
Features:
Faculty with a lot of experience
Study materials that are relevant
Concentrate on developing the necessary aptitude for entrance exams.
Students are directed to solve MCQs, which necessitates consistent work in order to attain their objectives.
Time management techniques
At the student's own speed, in order to foster interest rather than exam anxiety.
A thorough understanding of the foundations and their logical application to problems.
While balancing the Boards, prepare for law school entry.
a methodical approach
Material that covers theory, practise, and mock exams.
Customized learning programme to fulfil the Post-Boards Program's tight deadlines.
Address: 4991, 14, Phatak Rd, Khalsa College Amritsar, Opposite To Khalsa College For Women, Guru Arjun Nagar, Joshipura, Amritsar, Punjab 143002
Phone: 098766 43060
AAA Bright Academy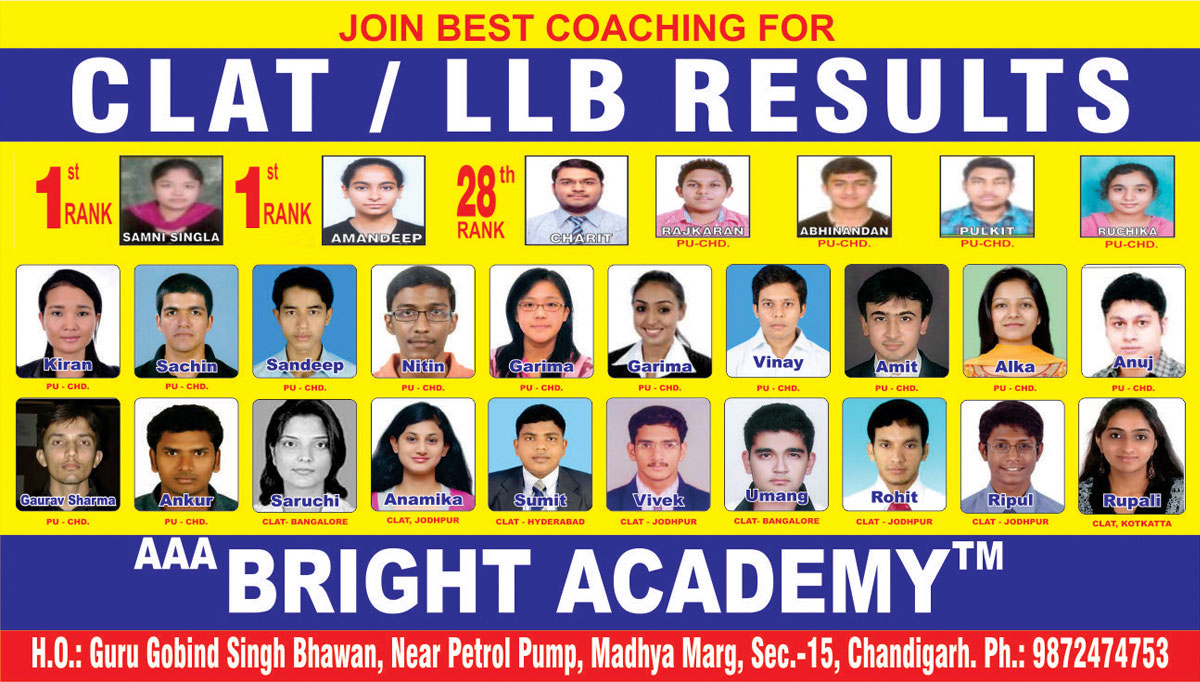 AAA Bright Academy is a CLAT Coaching in Amritsar that also provides instruction for other exams such as the AILET.
AAA Bright Academy has a single location in Amritsar's City Centre and a total of 13 coaching locations across India. IBPS PO Coaching is offered by AAA-Bright Academy in City Centre, Amritsar.
Features:
Duration of the Expert Faculty Course
Director Classes for New/Fresh Batches
Mock test for the Doubt Session
Strategy/Notes for the Green Card Full Study Material
Form for Feedback
Demonstration Class from Faculty
Fixed Discounting System with Personal Attention
Address
Shop No.78, Third Floor, Near Amrit Lab,
City Centre, Near Bus Stand, Amritsar,
Phone
9872474753, 8968035908
Email
[email protected]
Edu Mentor Educational Services Pvt. Ltd.
EduMentor is one of the largest Test Prep companies in Amritsar. Students are prepared for the BBA Entrance Exam, BBS Entrance Exam, IIM-IPM Entrance Exam, LAW Entrance Exam, and all other Undergraduate Entrance Exams in Management, LAW, Hotel Management, BCA, Mass Communication, and other fields.
Features:
Quantitative Skills
Reasoning logically
Verbal Ability General Knowledge
Contact Number - +911141109032
Email - [email protected]
Success Mantra
Established in 2010, Success Mantra is now known as a multi-program training specialist that operates on corporate lines and offers a wide range of National and State-Level Entrance Test Programs, including LAW (CLAT | DU-LL.B.
Success Mantra instructs hundreds of students in aptitude testing and communication skills as part of their Final Selection preparation at its KINGSWAY CAMP (GTB Nagar) center. When it comes to results, Success Mantra has consistently outperformed the competition.
They have the industry's highest success rate. Their Return on Investment (ROI) is as high as 1:3. If you wish to study for a certain exam.
Features:
LIVE Lectures from the Best Faculties
Access to E - Books & Free Resources
All India Test Series
Easevidya Mobile Application
Best Success Rate across Industry
Address: SCO 9, Building no.5, B Block, District Shopping Complex, Ranjit Avenue, Amritsar, Punjab 143001
Ushnak Institute of Law
Ushnak Institute of Law strongly believes and acknowledges that an institution's faculty serves as a link between the institute and its students. This is why they have a pool of the most energetic and exciting professors.
Their staff is made up of a well-balanced mix of senior and junior academics and professionals who are experts in their fields.
Features:
Test Series
Distance Learning Program
Doubt Sessions
Periodic Performance Tests
Online Lectures
Address: #2, SHORI NAGAR, POLYTECHNIC ROAD, CAMPUS, NEAR, Guru Nanak Dev University, Amritsar, Punjab 143001
Phone: 098140 70070
Conclusion
For the younger generation, the law is seen as one of the most honorable professions. A legal degree opens you to a wide range of job options in a variety of sectors. Studying law provides an intellectual challenge, and there are numerous institutions and universities that provide the greatest law degrees.
If you want to be a lawyer, you must pass the entrance exam because it is one of the stepping stones to your career success. As a result, this page provides a wealth of information on coaching centers in Amritsar so that you can prepare as effectively as possible.